Once again, two international events took place in the city of the great composer Rossini – Open contest of instrumental performers "Open Italy" and choir contest "World Of Choirs"!
The jury consists of artistic director of the piano academy Mario Mariani; conductor and jazz specialist Susanna Polzoni and the founder of Rossini chamber choir Simone Baiocchi.
The international events were held from April 28 to May 1, 2019 and left a mark in the memory of each participant: unforgettable performances in the classical Italian theater and in the main city square, magnificent master classes with outstanding Italian cultural figures and the exchange of experience among the contestants.
The winners of the Grand Prix were KaMu Girls Choir, Finland and pianist Prialkina Kseniia, Russia.
Participating countries: Turkey, Iceland, Russia, Finland
POSTER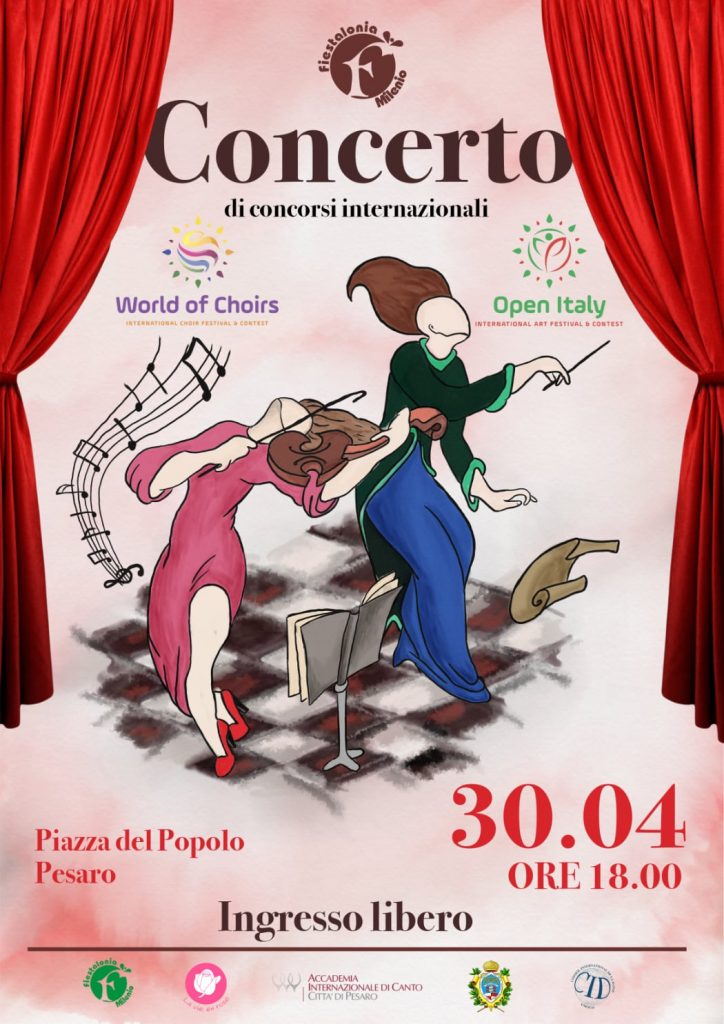 Results of World of Choirs & Open Italy (May 2019, Italy)
World of Choirs
KaMu Girls Choir, from Finland/Folk singing

GRAND PRIX
100 points

Kvennakor Isafjardar, Iceland/pop singing
KaMu Girls Choir, Finland /academic singing

Golden diploma
from 90 to 99 points

KaMu Children's choir, Finland/Children's choirs
KaMu Youth Choir, Finland/church singing
Kvennakor Isafjardar, Iceland/church singing
Kvennakor Isafjardar, Iceland/academic singing
Kvamu, Finland/Jazz singing

Silver diploma
from 80 to 89 points

Turkish Folk Music Group, Istanbul, Turkey/Folk singing

Bronze diploma
from 70 to 79 points
Open Italy
Prialkina Kseniia, Novosibirsk, Russia/Piano

GRAND PRIX
100 points

Dougall Anita Helena, Moscow, Russia/violin
Polina Titova, Novosibirsk, Russia/violin
Kostriukova Galina, Astrakhan, Russia/Piano

Golden diploma
from 90 to 99 points

Khmidullina Anastasiia, Yekaterinburg, Russia/guitar
Rusanova Liudmila, Ulianovsk, Russia/Piano

Silver diploma
from 80 to 89 points

Lips Volodar, Moscow, Russia/violin
Semenov Daniel, Moscow, Russia/Piano

Bronze diploma
from 70 to 79 points