In July 2017, was held one of the most interesting contest of Golden Voices of Barcelona in its entire history. The diversity of countries, cultures and choral styles was incredible! We were really surprised by the high level of participants, their artistry and preparation. Some techniques and works were very unusual and memorable. Especially we would like to note the chorus from China, who presented in all the nominations and was given the right to take away the main prize of the competition – the Grand Prix!
The countries wich participated:
Russia, South Africa, Morocco, Puerto Rico, China, Cameroon, Israel, Poland, Uzbekistan, Azerbaijan, Kazakhstan, Canada, Spain.
POSTER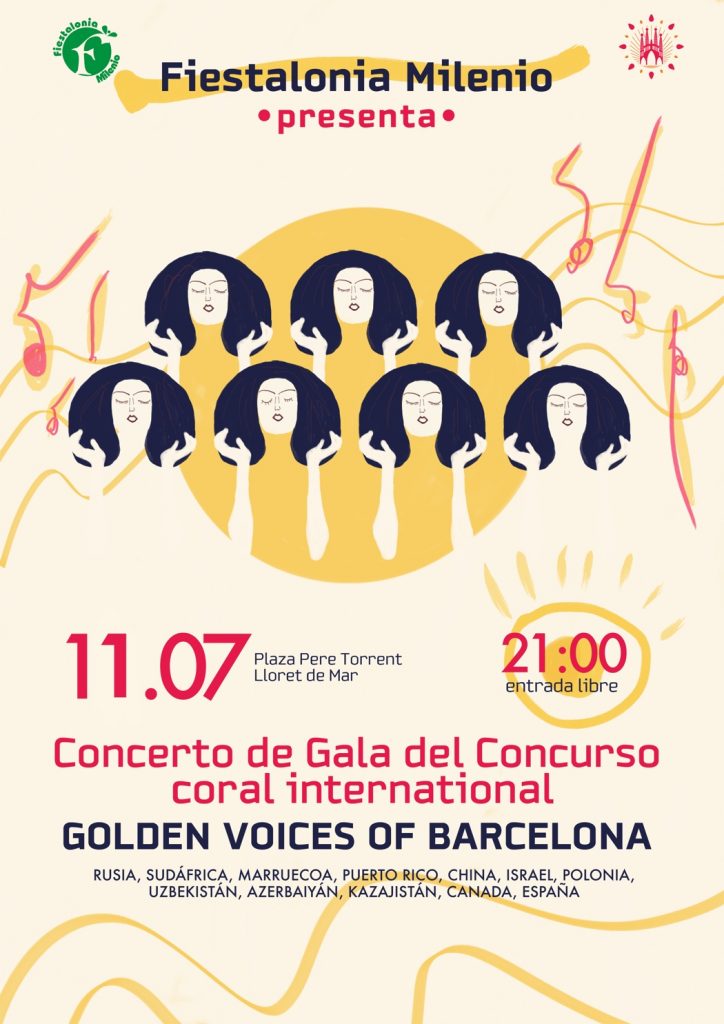 VIDEO
Results of Golden Voices of Barcelona 2017
GRAND PRIX (Platinum diploma) go to Guangzhou, China with Guangdong Experimental Middle School Choir in nomination "Folk Singing".
Guangdong Experimental Middle School Choir/folk singing

GRAN PRIX
100 points

Guangdong Experimental Middle School Choir/children's choirs
Guangdong Experimental Middle School Choir/academic singing/male
Guangdong Experimental Middle School Choir/academic singing/female
KwaZulu-Natal Youth choir/academic singing
Guangdong Experimental Middle School Choir/academic singing/mixed choir
CHORIUM/academic singing
KwaZulu-Natal Youth choir/church singing
CHORIUM/church singing
KwaZulu-Natal Youth choir/gospel singing
CHORIUM/spiritual singing
NCA North West Youth Choir/folk singing
CHORIUM/pop singing
KwaZulu-Natal Youth choir/folk singing
NCA North West Youth Choir/pop singing
CHORIUM/folk singing

Golden diploma
from 90 to 99 points

NCA North West Youth Choir/academic singing
NCA North West Youth Choir/church singing
Bel Canto Chamber choir/church singing
Ukrainian Male Chorus of Edmonton/academic singing

Silver diploma
from 80 to 89 points

Chorale Al Boughaz/academic singing

Bronze diploma
from 70 to 79 points

Vocal choir Zhibek/children's choirs
Vocal choir Zhibek/jazz singing

Copper diploma
up to 70 points
PHOTO