From 24 to 29 October 2018, once again hospitable Georgia welcomed the talented and bright participants of the international competition "Fiestalonia Georgia" in its capital. The eventful program of this cultural festival was generous with creative activities and interesting excursions, allowing young talents to taste the richness of the local culture.
The contest was held in the magnificent Garden Hall, after which the participants were offered excellent master classes on Georgian dance and Georgian polyphonic singing.
Fiestalonia Georgia is not only a competition between talents, but a creative meeting and exchange of invaluable experience. The result of joint work of participants and members of the jury of the contest was a fantastic flashmob in the picturesque Rike Park. The final point of the festival program put a solemn gala concert and a touching awards ceremony!
Beautiful voices, elegant dance moves, bright costumes, incredible performances and brilliant smiles of the participants did not leave the spectators indifferent!
JURY
Merab Mamulashvili
Natia Mtiulishvili
Nikoloz Kherkhadze
Maya Datunashvili
POSTER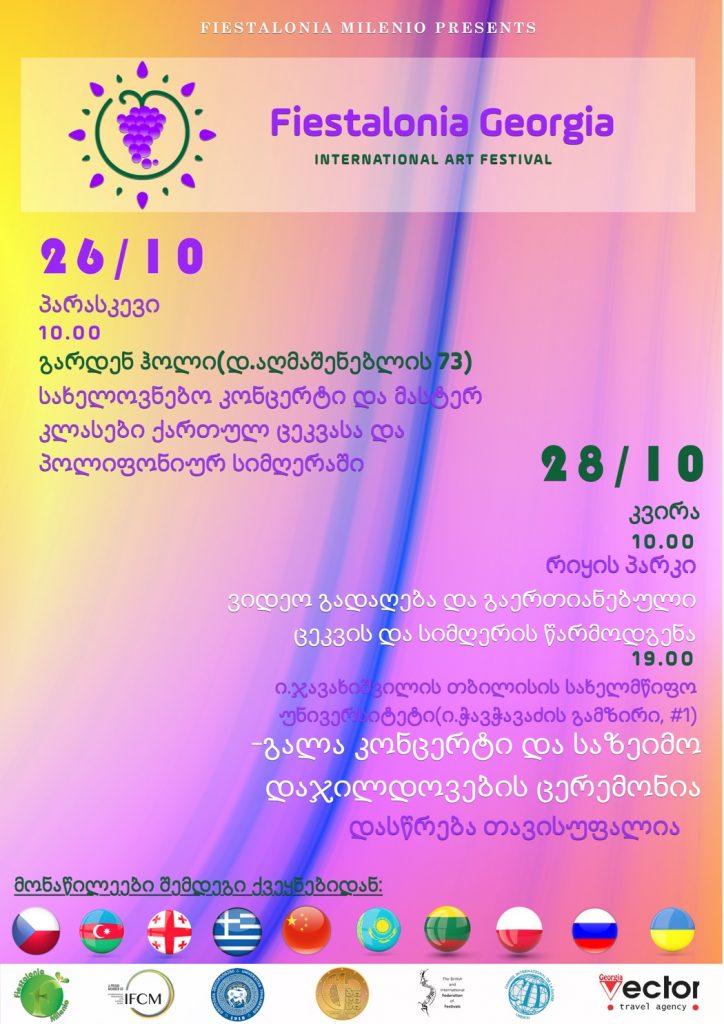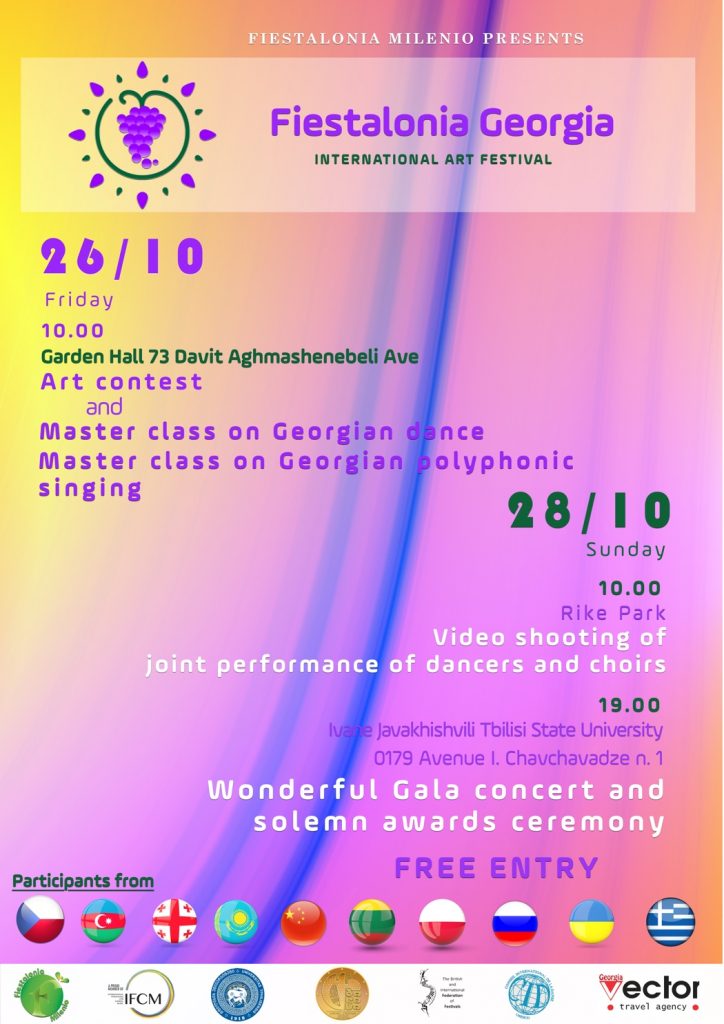 Results of Fiestalonia – Georgia (October 2018, Tbilisi)
Nomination «Singing» (choirs, ensembles, duets, trios, soloists)
Male Chamber Choir Permoník/folk singing

Platinum diploma
GRAND PRIX 100 points

Zlatoslava Baranova/folk singing
Salvaridoy Sofia/pop singing
Mariam Oragvelidze/pop singing
Nikoloz Meparishvili/pop singing
Grigoriadoy Fotini/pop singing
Aristadi Maria/folk singing
Grigoriadoy Fotini/folk singing
Wei Shupeng/academic singing
Children's Choir "Cantilena/academic singing
Male Chamber Choir Permoník/academic singing
Ensemble of Old Music «Choral»/academic singing
Choir "Algetelebi" from Rustavi School of Folklore/folk singing
Górniczy Chór Męski (Male Miner's Choir)/folk singing
Choir of First graders from Sulkhan Tsintsadze Tbilisi School of Art N16/pop singing
Children's Vocal Ensemble of Z. Paliashvili School of arts/pop singing
Tbilisi Youth Choir "Camerata"/pop singing
Vocal group "Gross Oktet"/pop singing

Golden diploma
from 90 to 99 points

Davogian Sergios/pop singing
Valavanidoy Anastasia/pop singing
Aristadi Maria/pop singing
Ketevan Antidze from Studio "NAMI/bluez
Zlatoslava Baranova/pop singing
Anna Tsitskishvili from Studio "NAMI/pop singing
Davogian Sergios/folk singing
Valavanidoy Anastasia/folk singing
Salvaridoy Sofia/folk singing
Zlatoslava Baranova/jazz singing
Children's Chamber Choir "VASANTA/children's academic vocal
Górniczy Chór Męski (Male Miner's Choir)/academic singing
Górniczy Chór Męski (Male Miner's Choir)/pop singing

Silver diploma
from 80 to 89 points

Vocal ensemble "SATYA"/academic singing

Bronze Diploma
from 70 to 79 points
Nominations «Choreographic groups and soloists»
Klaipeda Queen's Luize Youth center dance group "Junga"/ ballroom dance

Golden diploma
from 90 to 99 points

Duet from Bahar Ensemble, group Spirit of the Caucasus/folk dance
Bahar Ensemble, group Spirit of the Caucasus/folk dance
Klaipeda Queen's Luize Youth center dance group "Junga"/ modern dance

Silver diploma
from 80 to 89 points
Nomination «Instrumental groups and soloists»
Zhou Xinyu/piano
Zhou Geyang/piano
Jazz-Orchestra Revaz Lagidze Musical School/instrumental music
Folk music ensemble " Zhaleika"/ folk music ensemble
Folkloric Ensemble "Tamaris"/folk music ensemble

Golden diploma
from 90 to 99 points

Polina Iumankina/piano
Irakli Ksovreli/guitar
Rusanova Liudmila/piano

Bronze Diploma
from 70 to 79 points
Nomination «Artists and authors of the decorative and applied arts' products»
Azarin Hajizada
Maryam Jafarova
Roya Novruzova
Rufat Rasulov
Adil Demirtash
Aybaniz Yusubova
Gunel Huseynova

Golden diploma
from 90 to 99 points

Aynel Babayeva
Mirmuhammad Azizli
Leyli Aliyeva
Aisha Gambarli
Rajab Yusubov
Bahruz Zamanov

Silver diploma
from 80 to 89 points
PHOTO