From 18 to 22 March 2018 in the Spanish city of Lloret de Mar hosted the international choreographic contest-festival "Dancing Catalonia 2018", which gathered all the best dance groups from many countries on the same stage.
The organiser of this contest was European leader in organisation of worldwide festivals and competitions "Fiestalonia" in cooperation with Town Hall of LLoret de Mar.
The participants of this dance festival were received by the representatives of the team of Fiestalonia and accommodated in comfortable hotels: Samba, Gran Hotel Monterrey & Spa and H · TOP Royal Star & SPA.
The contest took place in the municipal theater of Lloret de Mar, where each participant had the opportunity to show their dance skills to the professional jury, which included Irina Khrebtova, María Rovira and Yadira Olavarria.
Within the framework of the contest-festival all the dancers took part in the master class "Afro-contemporary" by Yadira Olavarría, a teacher and a choreographer, a prima ballerina of the American Musical Theater in Havana. Talented contestants worked seamlessly with strong and smooth movements of the body, inspired by the nature and energy of animals. The result of their joint work was an incendiary dance flash mob next to the Town Hall, which was captured on camera and made a part of the video report of the contest.
The dance of bright emotions and strong feelings, where the participants of "Dancing Catalonia 2018" were able to release their hunter's instincts, was a wonderful start of the enchanting gala concert.
The awarding ceremony was a joint event for "Dancing Catalonia" and "Golden Voices of Montserrat", two contests held in parallel by the team of Fiestalonia in Lloret de Mar.
The National Ballet Theatre «Skazka», dance groups Sun Dance House, Aurea Tribal Dancers, C.O. Savigny, Acedance, Acrosport from Playa D'aro made "Dancing Catalonia 2018" a special and unforgettable event.
If you want to become a part of something great and exciting and gain a tremendous experience, fill out an application form for participation in Dancing Catalonia 2019!
JURY
POSTER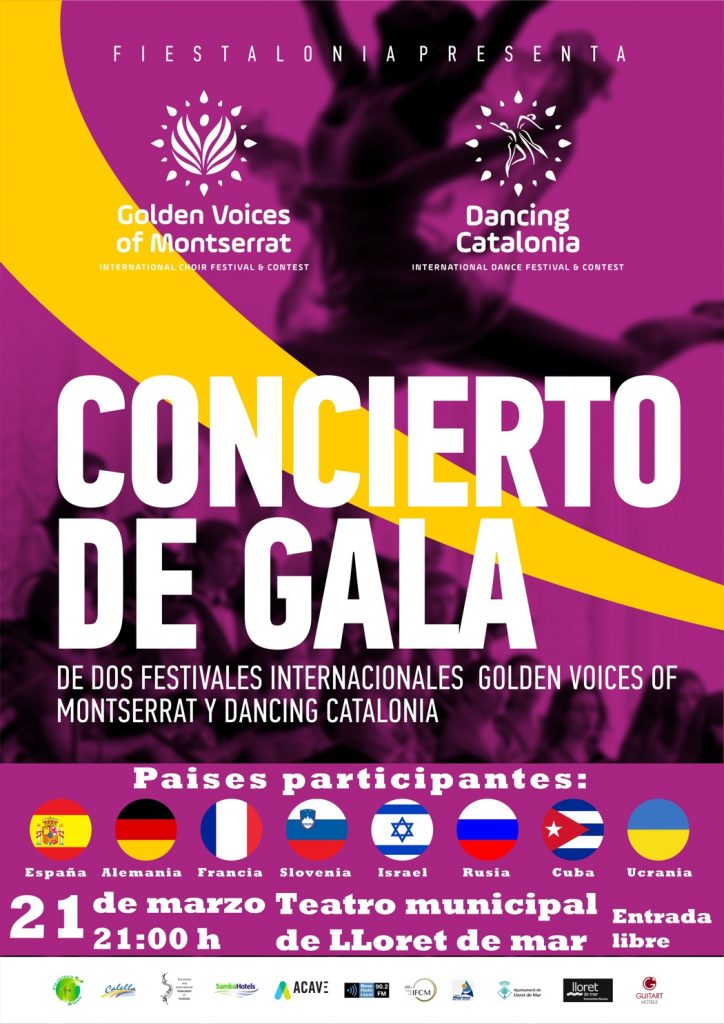 VIDEO
Results of Dancing Catalonia (March 2018, Spain)
Kostikova Olesia/modern dance
Moro Arina/modern ballet
Sun Dance House/modern dance/mixed
The National Ballet Theatre «Skazka»/classical dance

Golden diploma
from 90 to 99 points

Kostikova Taisiia/modern ballet
Kurasova Sofiia/modern dance
Minenko Anna/modern ballet
Khoruzhevska Uliana/modern dance
Sun Dance House/modern ballet/I age category
Moro Arina/modern ballet
Khytryna Alisa, Basiaieva Alisa/modern ballet
Sun Dance House/modern dance/II age category
Sun Dance House/modern ballet/II age category
C.O.Savigny/artistic gymnastics with acrobatic elements

Silver diploma
from 80 to 89 points

Hibkina Kristina/modern dance
Sun Dance House/modern dance/I age category
Kostikova Tasiia, Minenko Anna/modern dance
Andrea Mariano y Dulce Ramos/modern jazz
Moro Uliana, Zinchenko Oleksandr/modern ballet
Moro Arina, Kostikova Olesia/modern dance
Uliana Moro, Chursina Yuliia/modern dance
Acedance/acrodance
Moro Uliana/modern ballet

Bronze diploma
from 70 to 79 points

Daitziara Brígida Ramos Pérez/lyrical dance
Deborah del Carmen Ramírez Artiles/modern dance
Daria Kolyada/sport dance
Alexandra Davydova/sport dance
Trio from Acrosport Playa D'aro/sport dance
Karmen Carballo/bellydance, tribal fusion urban
Aurea Tribal Dancers (ATD)/bellydance, tribal fusion urban

Copper diploma
till 70 points
PHOTO