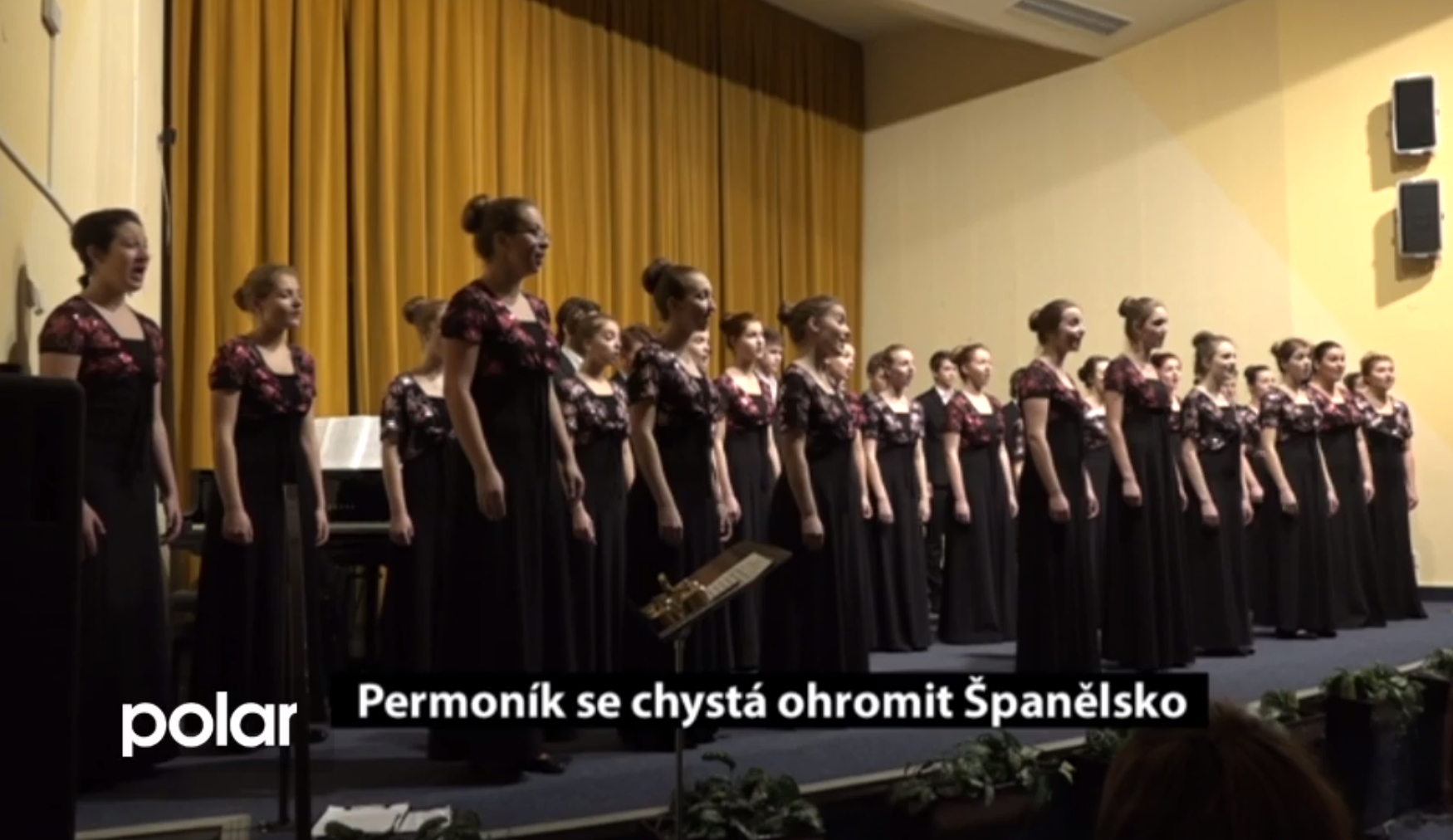 Karvinský Permoník už tento pátek odjíždí reprezentovat Českou republiku na soutěžní festival do Španělska. Koncertní sbor a Mužský komorní sbor budou soutěžit hned v pěti kategoriích. My jsme sboristy zastihli na posledním generálním koncertu a tady je malá ochutnávka jejich soutěžní sestavy písní.
Už v pondělí 20. března se světově známý pěvecký sbor Permoník pokusí uspět na prestižním pěveckém festivalu ve Španělsku.
Dominika Škrabalová, sbormistryně Mužského komorního sboru Permoník: "Španělsko je naše velká premiéra, na Pyrenejském poloostrově jsme ještě nebyli, tak se těšíme, bude to pro nás velká výzva. Jedeme soutěžit na festival, který se jmenuje Golden Voices of Montserrat, tzn., Zlaté hlasy Montserratu."
44 dívek a 11 chlapců se porotě představí hned v pěti kategoriích. Děvčata zazpívají skladbu vážné hudby a folklóru, chlapci se pokusí uspět v kategorii komorních těles a společně pak zabojují v kategorii smíšených sborů. Do soutěže se navíc pustí i pěvecké trio, které zvítězilo v soutěži Stonavská Barbora. Přípravě věnovali sboristé desítky hodin.
Martina Juríková, sbormistryně Koncertního sboru Permoník: " Já si myslím, že jsme nazkoušeli jak nejlépe jsme mohli, a že se nám podaří zazpívat jak nejlépe umíme."
Poprvé se na zahraniční soutěž vydává i Denis Ston, který ve sboru zpívá už sedm let.
Denis Ston, člen Permoníku: "Zatím jsem byl nejdál v Praze. Už se těším, ale celkem se toho i bojím a jsem i nervózní trochu z toho. Myslím, že dopadneme dobře určitě."
Na festival se kromě Permoníku chystají sbory celkem z 11 různých zemí. O tom, jak se Permoníku dařilo, vás budeme informovat.
16 of March 2017
Original: Polar