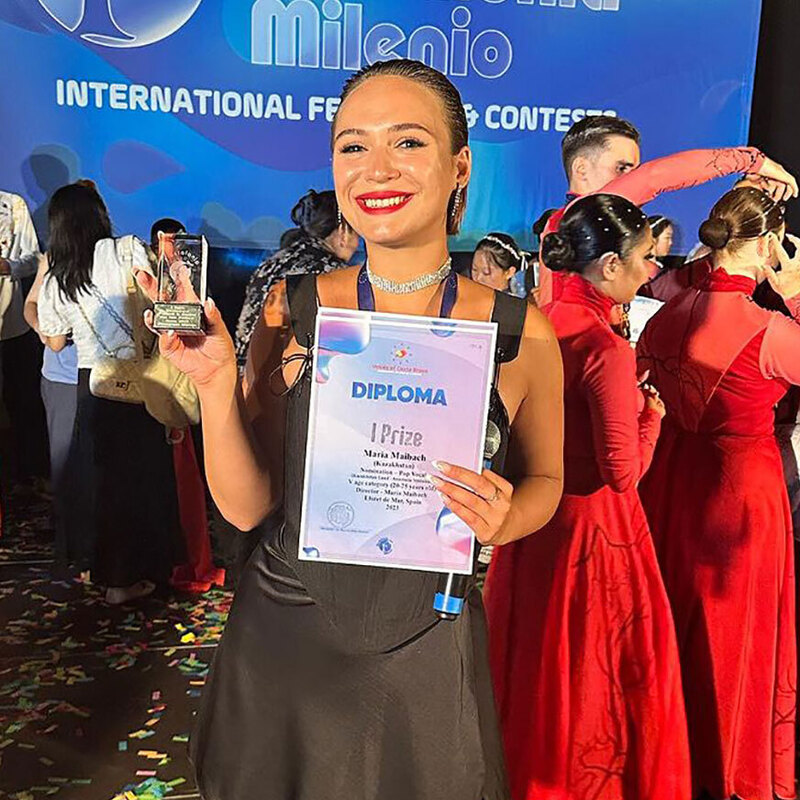 At an international creative competition in Spain, a vocalist from Pavlodar took first place, winning in two of her nominations.
The SEA SUN FESTIVAL, held annually in Lloret de Mar, presented a rich and exciting competition programme including vocal, dance, instrumental and theatrical performances from young talents from different countries. More than two hundred participants came to the festival from different parts of the world, such as Greece, Chile, China, Cyprus, Dubai, Ukraine, Kazakhstan, Uzbekistan, Indonesia and Spain.
Maria Maibach, a talented participant of Pavlodar Regional Society of Germans "Revival", impressed the jury with two stunning compositions in the category "Pop Music", for which she was highly appreciated.
The international event was organised by the FIESTALONIA MILENIO Committee. Maria Maibach's testimonial about herself and the most exciting moments of this popular Spanish event:
"The stage has been my dream since childhood, it is where I started my solo career. After moving to Germany, I temporarily abandoned vocal, but after returning to Kazakhstan, I turned to singing again. Now I am a member of the vocal group 'WIR.' When I heard about the festival in Spain via the internet – with its sea, sun and sandy beaches – I realised that this was what I was looking for. So I sent in my application. The preparation for the competition was professional – I spent three months developing my vocal skills and actively rehearsed. Thanks to the teachers from the vocal school "Microphone", I improved my weaknesses considerably. As for the organisation of the festival, it was of the highest level, and in general everything went wonderfully and great!" said Maria Maibach.
Marina Angaldt. Original source: Unified portal of the Germans of Kazakhstan.