Incredible and unique talents took part in the international festival-contest SUN OF ITALY, held in June 2015. Those emotions that caused the participants to our honorable judges, as noted Claudio Casadei, would like to experience them again and again! Such a high level of training of the contestants – are not a rarity at our festivals, but each time continues to delight and amaze the audience of our events!
All participants in this international contest SUN OF ITALY received gifts from the sponsor Baldinini, branded T-shirts with logos of Fiestalonia and Baldinini.
Singers, dancers, instrumentalists and theaters fought for the title of Grand Prix of the international contest organized by Fiestalonia. This award received without doubt the most striking and highly distinguished artistry and ability to feel the music he played – Nurlybek Ablay from Kazakhstan. Thank you for your talent!
POSTER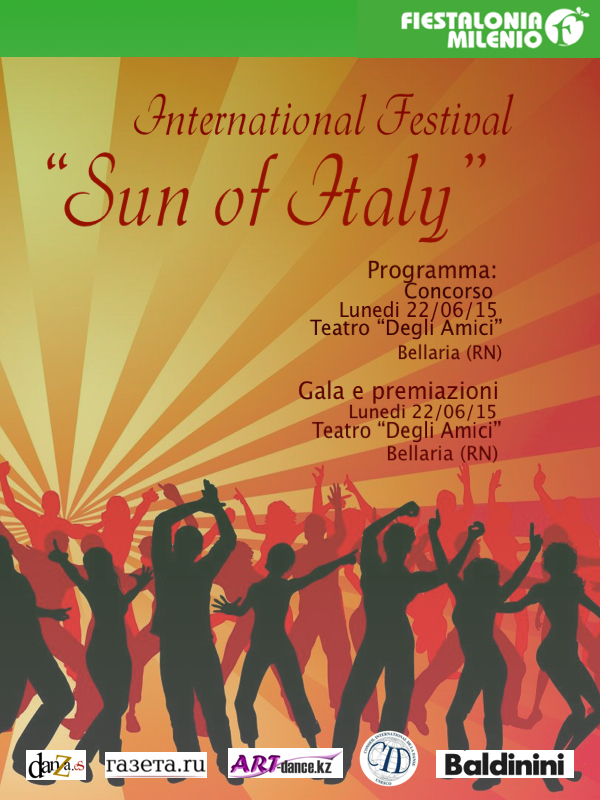 RESULTS
GRAND PRIX (Platinum diploma) go to Kazahstan, Almaty with Nurlybek Ablay from ensemble "Divertisment" in nomination "Violin".
Nomination INSTRUMENTAL MUSIC
Ensemble "Divertissement" Middle Group / instrumental ensemble / Mixta
Trio Bozzhanova Yasmina, Bozzhanov Karim, Zaparova Dilyaram / violin, piano / Mixta
Solista Zaparova Dilyaram / solo violin / 10-12 age
Solista Dyusupova Aruzhan / solo piano / 9 years
Solista Asylbekova Alina / solo piano / 10-12 age
Solista Bozzhanova Yasmina / solo piano /10-12 age
Solista Shakenova Makpal / Solo violin /10-12 age
Solista Bessarab Darya / Solo violino /10-12 age

Bronze Diploma
from 70 to 79 points

Solista Bakhtina Vassilisa / solo piano /Under 9
Swiss Strings Duo / instrumental ensemble / 10-12 age
Ensemble Die kleinen Virtuosen /instrumental ensemble / Mixta
Duo Samirah Schuler and Anja Bereiter / instrumental ensemble / Mixta
Soloist Saukhanova Rauan / solo piano /20-25 age
Rondo'Strings / instrumental ensemble / Mixta
Solista Bereiter Anna / Solo violino / Over 26

Silver diploma
from 80 to 89 points

Ensemble "Divertissement" young group /instrumental ensemble / Mixta
Solista Brikova Alina / solo violino /10-12 age
Ensemble "Divertissement" major group / instrumental ensemble / 10-12 age
Duo Swiss-Ru Violin / instrumental ensemble / Over 26

Golden diploma
from 90 to 99 points

Soloist Nurlybek Ablay / Solo violino /13-15 age

Platinum diploma
GRAN PRIX
Nomination VOCAL
Teatro-Studio musicale "Motley company "Gruppo "Il vento allegro" / pop vocal / Mixta
Soloist Oleynik Andrey / pop vocal / 9 years
Soloist Gusseinov Evgeniy / pop vocal / 10-12 age
Teatro-Studio musicale "Motley company "Gruppo "Piccola navetta" / pop vocal / 10-12 age

Bronze Diploma
from 70 to 79 points

Teatro-Studio musicale "Motley company "Gruppo "Lezzioni allegri" / pop vocal / 9 years
Solista Parakhonca Dziyana / pop vocal / 10-12 age
Soloist Alijonov Ilyosbek / academic vocal /20-25 age
Soloist Soipov Humoyon / pop vocal / 16-19 age

Silver diploma from 80 to 89 points

Soloist Kravtsov Vasiliy / pop vocal / 10-12 age
Soloist Jumaniyazov Aminzoda / academic vocal / 20-25 age

Golden diploma from 90 to 99 points
Nomination TEATRE
| | |
| --- | --- |
| Teatro-Studio musicale "Motley company" / Teatro / Mixta | Golden diploma from 90 to 99 points |
Nomination FINE ARTE
| | |
| --- | --- |
| Bozzhanova Nargiza / Fine Art / Over 26 | Golden diploma from 90 to 99 points |
PHOTOS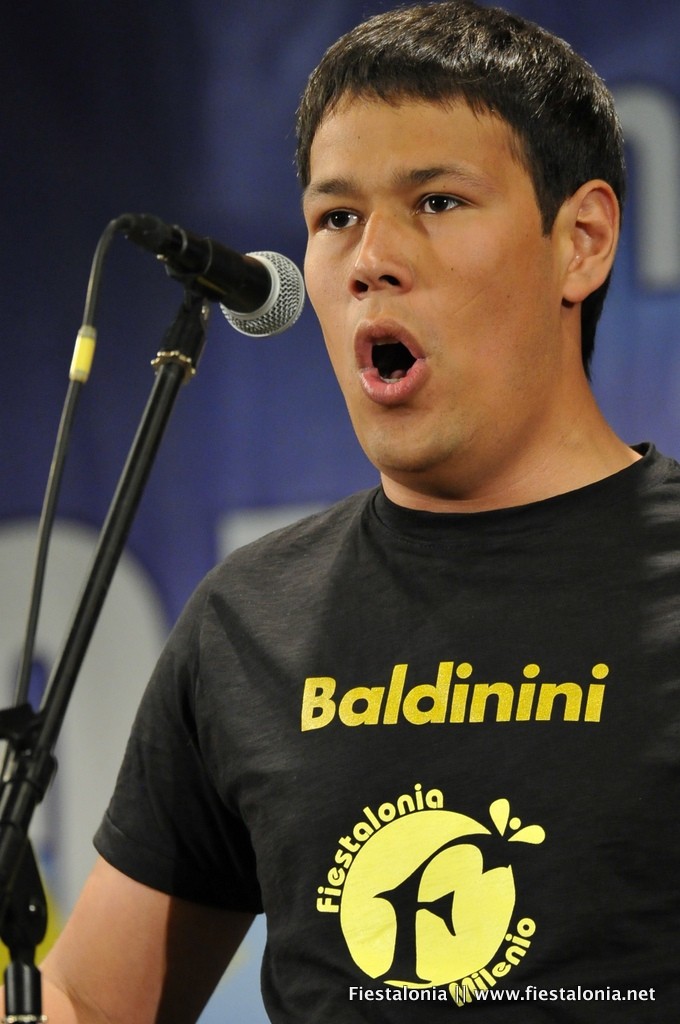 Click on the button👇