International Choreographic Competition International Dance Games, moves from country to country every year, for 2016, Italy!, in the beautiful town of Montecatini Terme. We managed to combine this competition with our annual festival-contest Sun of Italy. Participants had a wonderful experience in communicating with our members of the jury.
JURY
Luca Tavanti. He is an Italian composer born on 1986; he started studying violin at the age of 6 under the guidance of Vittoria Ottaviani and then he graduated in Computer Music at the Conservatory of Florence in 2014. Currently he's working on the restoration and recovery of audio supports (with MARTlab), teaching, live and studio recording, musical publications and live concerts.
Giulia Pacini. At 3 years old she started to study the modern dance and jazz, she became interested in street dance and hip hop culture by participating in numerous performances and hip hop events throughout Italy. In 2006 she opens and directs the first school of dance Hip Hop in Pistoia "Freedance-streets style". She graduated the International Dance Association in section Hip Hop. Choreographer and dancer for "At last the happiness", directed by Leonardo Pieraccioni.
POSTER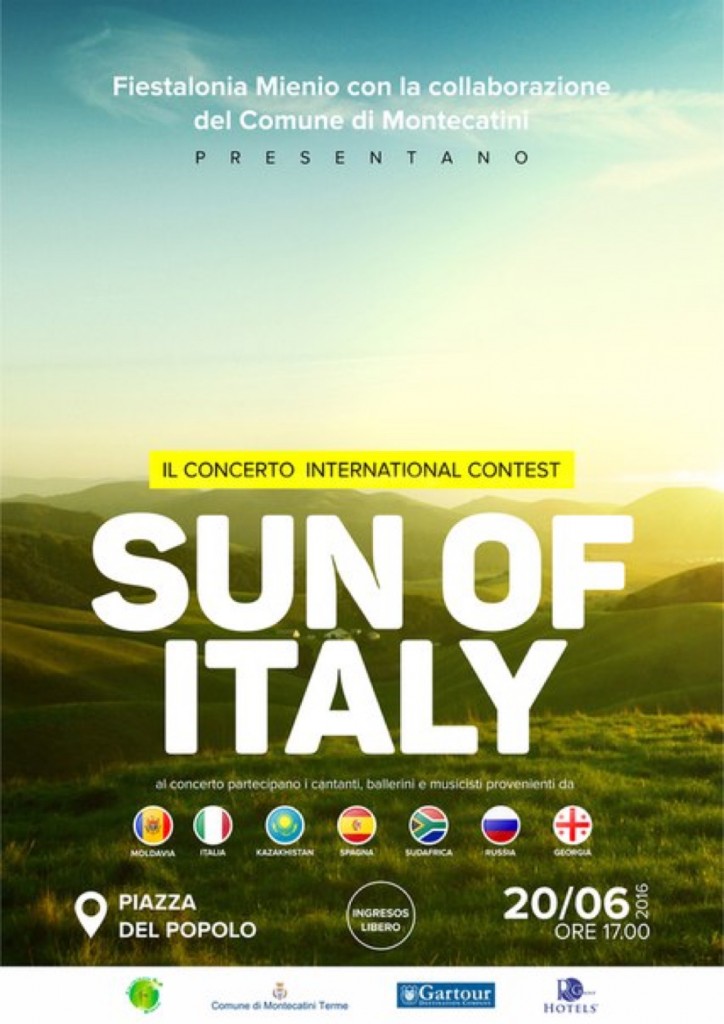 Results of Sun of Italy and International Dance Games (June 2016, Italy)
Nomination «Singing» (choirs, ensembles, duets, trios, soloists)
Luka Katcharava/pop singing
Zhaukenova Alua/pop singing
Sabrina May Loubser/pop singing
Talipova Tatyana/pop singing

Golden diploma
from 90 to 99 points

Sagyndyk Malika/pop singing
Galimurat Abdimanapov/pop singing
Galimurat Abdimanapov/folk singing
Luka Katcharava/folk singing
Sabrina May Loubser/academic singing

Silver diploma
from 80 to 89 points

Kanzhigalinova Zhanel/pop singing
Talipova Yekaterina/pop singing
Zhaukenova Deniza/pop singing
Ravil Alua /pop singing
Kairasheva Dilnaz/pop singing
Raush Arianna/pop singing
Zhaukenova Tomiris/pop singing

Bronze Diploma
from 70 to 79 points

Kusainova Zhanel/pop singing

Copper diploma
up to 70 points
Nominations «Choreographic groups and soloists»
Cristina Dehtyarova, Alicia Takhtarova/modern dance
Mila Petrova and Miriam/classical dance
Nikol Nikolaeva/classical dance
Negmanov Alan/sport dance
Gabriel Tagle, Nikol Nikolaeva/classical dance
The Theatre of music and choreography for children Bravissimo/show dance/age category II (10-12)

Golden diploma
from 90 to 99 points

Angelina Takhtarova/modern dance
Cristina Dehtyarova/modern dance
Braga Mirela, Cosulean Olga/jazz modern
Krasilovskaya Maria/classical dance
Gabriel Tagle, Miriam Comas/modern dance
Krasilovskaya Maria/modern dance
The Theatre of music and choreography for children Bravissimo/modern dance/age category I < 9
The Theatre of music and choreography for children Bravissimo/variety dance/age category mixed (9-11)
The Theatre of music and choreography for children Bravissimo/show dance/age category mixed (12-16)

Silver diploma
from 80 to 89 points

Buti Keira/folk dance
Buti Sophia/modern dance
Kuzmina Elizaveta/folk dance
Babara Corina, Bezusca Loredana/show dance
Khluchina Elizaveta/classical dance
Ushanova Olga/folk stylized dance

Bronze Diploma
from 70 to 79 points
PHOTO