From June 16 to 19, 2019, the international summer festival-contest "Sun of Italy" gathered gifted dancers, musicians, instrumentalists and young theater artists from different parts of Eurasia in the city of Pesaro, Italy.
The festival program began with a competitive viewing, which took place on the stage of the magnificent Teatro Comunale di Cagli Municipal. The professional jury not only appreciated the creative performances of the participants, but also selected the most expressive and memorable of them for the gala concert.
The friendly atmosphere, conducive to new knowledge, the exchange of experience and culture, educational excursions to the magnificent places of Italy immersed the participants in an atmosphere of creativity and inspiration.
Charged with the energy of the sea and the sun, the contestants again entered the stage, this time to share their talent with the locals people.
Participating countries: Russia, Kazakhstan, Ukraine, Georgia, Spain, Lithuania
POSTER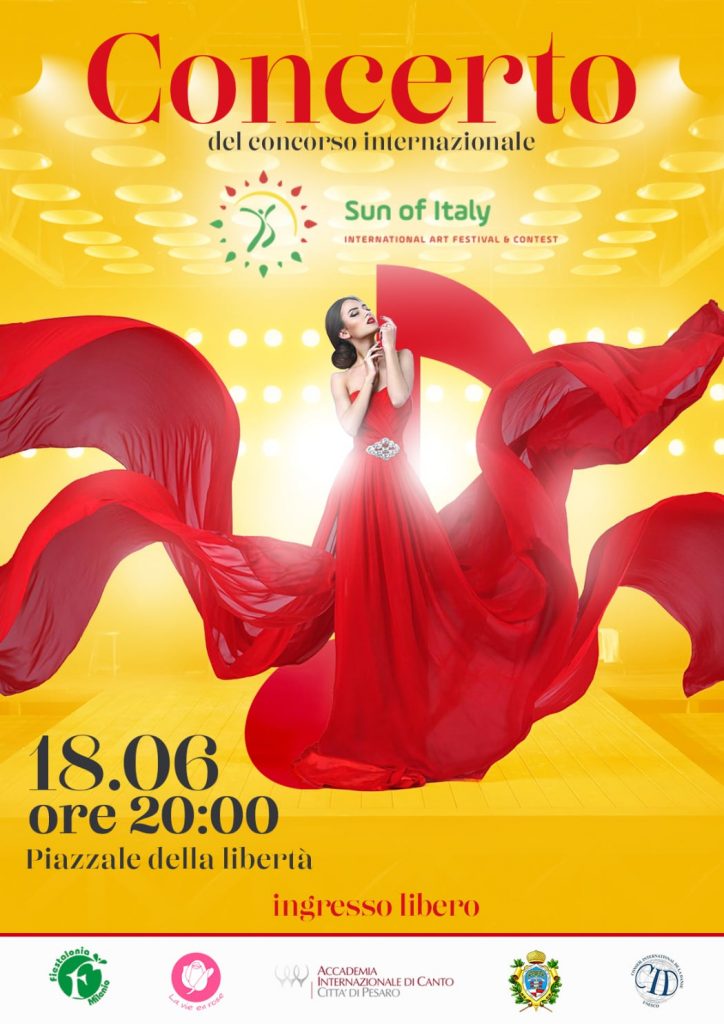 Nominations «Choreographic groups and soloists»
Rustam Diana from School of ballet art"Nutcracker", Nur-sultan, Kazakhstan – classical ballet
Sultan Amira from School of ballet art"Nutcracker", Nur-sultan, Kazakhstan – classical ballet
Amira Tulegenova, Almaty, Kazakhstan – classical ballet
Art School «OceanArt», Nur-sultan, Kazakhstan – pantomime

Golden diploma
from 90 to 99 points

Tulegen Ayana from School of ballet art"Nutcracker", Nur-sultan, Kazakhstan – classical ballet
Group "Pirouette" from School of  ballet art "Nutcracker", Nur-sultan, Kazakhstan – classical ballet
Akylova Ailin from School of ballet art"Nutcracker", Nur-sultan, Kazakhstan – classical ballet
Deborah del Carmen Astiles Ramirez, España – acrodance
Deborah del Carmen Astiles Ramirez, España – gymnastics
Deborah del Carmen Astiles Ramirez, España – acrodance
Group "Adagio" from School of ballet art"Nutcracker", Nur-sultan, Kazakhstan – modern dance

Silver diploma
from 80 to 89 points

Amelicheva Yalsmalina from School of ballet art "Nutcracker", Nur-sultan, Kazakhstan – folk dance
Group "Adagio" from School of ballet art "Nutcracker", Nur-sultan, Kazakhstan – classical ballet

Bronze Diploma
from 70 to 79 points
Nomination «Singing» (choirs, ensembles, duets, trios, soloists)
Ariana Litovchenko, Rostov-on-Don, Russia – jazz singing
Ariana Litovchenko, Rostov-on-Don, Russia – pop singing Sudakova
Arina from Astana Music studio, Nur-sultan, Kazakhstan – pop singing

Golden diploma
from 90 to 99 points 

Panina Angelina, Dzerzhinskiy, Russia – academic singing
Shkoda Bohdan, Kiev, Ukraine – academic singing
DOSSYMKHAN  NORMAT from Art School «OceanArt», Nur-sultan, Kazakhstan – pop singing
Art School «OceanArt», Nur-sultan, Kazakhstan – theatrical miniature, musical

Silver diploma
from 80 to 89 points

Seregina Kristina, Dzerzhinskiy, Russia – academic singing
Uvarova Polina, Dzerzhinskiy, Russia – academic singing
Tiuliapkina Daria, Nizhni Novgorod, Russia – pop singing
Zere  Murzatayeva from Art School «OceanArt», Nur-sultan, Kazakhstan, – pop singing
Kazhymukhan  Narmat from Art School «OceanArt», Nur-sultan, Kazakhstan – pop singing

Bronze Diploma
from 70 to 79 points

Seregina Alisa Dzerzhinskiy, Russia – academic singing
Dolidze Elene, Tbilisi, Georgia – pop singing
Anna  Sanishvili, Tbilisi, Georgia – pop singing
Jajanashvili Tika, Tbilisi, Georgia – pop singing
Duet Dolidze Elene  &  Zakroshvili Elizabeta, Tbilisi, Georgia – pop singing
Trio from Mkhiaruli Notebi, Tbilisi, Georgia – pop singing
Kandelaki   Mariami, Tbilisi, Georgia – pop singing
Eloidze  Levani, Tbilisi, Georgia – pop singing
Dariya  Issina from Art School «OceanArt», Nur-sultan, Kazakhstan – pop singing

Copper diploma
up to 70 points
Nomination «Instrumental groups and soloists»
Greta Senkutė, Kaunas, Lithuania – piano
Emilis Vilimas, Kaunas, Lithuania – piano

Golden diploma
from 90 to 99 points 

Austėja Breivytė, Kaunas, Lithuania – piano

Silver diplomafrom 80 to 89 points 

Brigita Bartkutė, Kaunas, Lithuania – piano
Barbora Kliučinskaitė, Kaunas, Lithuania – piano

Bronze Diploma
from 70 to 79 points

Group "Pirouette" From School Of Ballet Art"Nutcracker", Nur-Sultan, Kazakhstan – orchestra (flute)

Copper diploma
up to 70 points