From 7 to 12 July 2019, two international festivals, "Sun of Italy" and "Dancing Italy", were held on the Italian Adriatic coast in Pesaro.
The festival program began with a competitive viewing in the ancient Teatro Comunale di Cagli. Its luxurious scene inspired all participants who, having overcome the excitement and thrill, showed the jury their performances.
At the end of the contest day, all dancers were invited to take part in the staging of the final choreography for the Gala concert from the incomparable Laura Mungherli, Italian choreographer and a regular member of the jury of the international contests of Fiestalonia. This positive and incendiary dance demonstrated all the energy, creativity and unity of the participants.
The next day, many contestants went on an excursion to the small state of San Marino, and in the evening returned to Pesaro to perform at the long-awaited Gala concert.
Despite adverse weather conditions, the participants performed with dignity in the city square in front of the local spectators, so they could scattered the clouds over Pesaro with their talent!
Participating countries: Canada, South Africa, Latvia, Russia, Slovenia, Ukraine, Kazakhstan.
JURY
GIACOMO BONAZELLI – He studied dance at I.D.A. Dance Academy of Ravenna under the artistic direction of Steve LaChance, also at Codarts, the Dutch University of the Arts (Rotterdam). In 2014 he joined the Lucerne Theater in Switzerland as a dancer. In 2016 he moved to New York where he became assistant choreographer and assistant teacher of the choreographer Nijawwon Matthews, dancing for the XY Dance Project company. He also teaches at the Broadway Dance Center and Joffrey Ballet School and together with Matthews teach at the Juilliard Summer Course in New York.
FLAVIA BADIOLI – She is from Pesaro and studied in the most important dance academies in Italy under the artistic direction of the outstanding italian teachers and choreographers. After the audition she was chosen by the Broadway Dance Center to study and dance in their Academy in NYC. Main dancer in "Evolution Dance Pesaro", choreographer of Dance school "Amati", "New Dancer school" and musical for children "Pinocchio".
POSTER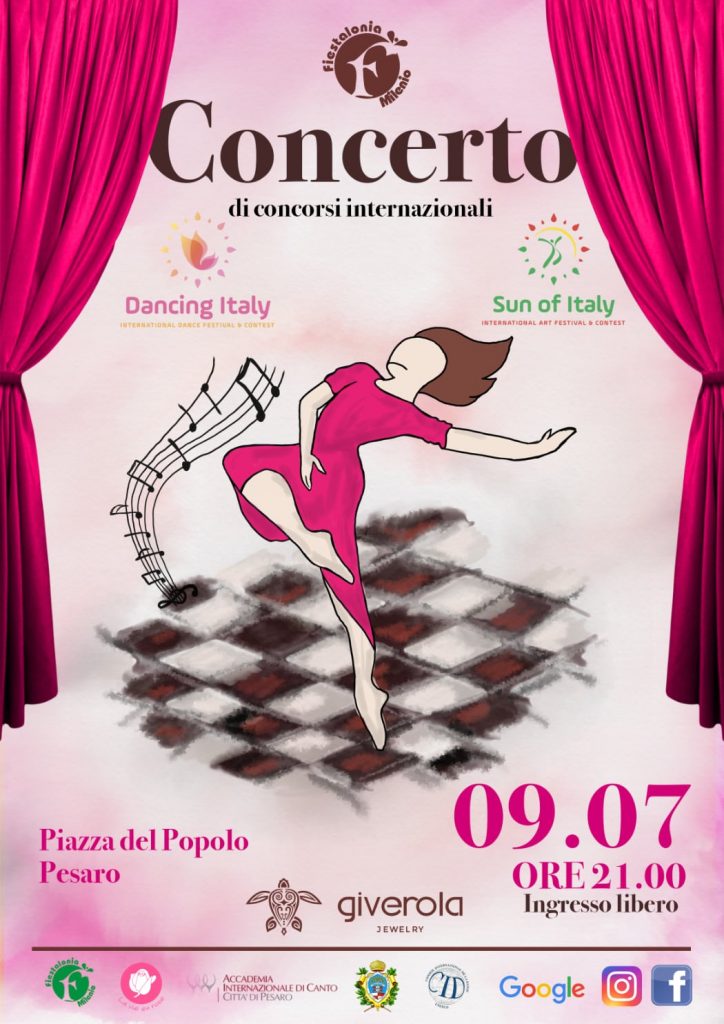 Results of Sun of Italy & Dancing Italy (July 2019, Italy)
Dance City Academy, West Kelowna, BC, Canada – jazz modern

GRAND PRIX
100 points

Kezone dance, Johannesburg (Gauteng), South Africa – hip-hop
Stefania Usar-Chea, UKRAINE – piano
Rozalija Kavčič, Sežana, Slovenia – contemporary dance
Sue-Ellen Vermaak from Wat's On Dance Studio, Gauteng, South Africa – contemporary dance
Sue-Ellen Vermaak from Wat's On Dance Studio, Gauteng, South Africa – hip-hop
Rozalija Kavčič, Sežana, Slovenia – classical dance
Kezone dance, Johannesburg (Gauteng), South Africa – variety dance

Golden diploma
from 90 to 99 points

Kurilo Daria, Ekaterinburg, Russia – variety vocal
Julija Vasilkova, Riga, Latvia – piano
Wat's On Dance Studio, Gauteng, South Africa – hip-Hop
Julija Vasilkova, Riga, Latvia – neo classical
Angelina Sayers from Kezone dance, Johannesburg (Gauteng), South Africa – contemporary dance
Tamra Ahmed from Kezone dance, Johannesburg (Gauteng), South Africa – contemporary dance
Cailin Benningfield from Wat's On Dance Studio, Gauteng, South Africa – modern dance
Zoë Watson from Wat's On Dance Studio, Gauteng, South Africa – contemporary
Kezone dance, Johannesburg (Gauteng), South Africa – contemporary
Kian Watson from Wat's On Dance Studio, Gauteng, South Africa – hip-hop
Amber Mills from Wat's On Dance Studio, Gauteng, South Africa – hip-hop
Zoë Watson from Wat's On Dance Studio, Gauteng, South Africa – hip-hop
Duet from Kezone dance, Johannesburg (Gauteng), South Africa – hip-hop
Trio from Kezone dance, Johannesburg (Gauteng), South Africa – hip-hop
Lara Otto from Kezone dance, Johannesburg (Gauteng), South Africa – contemporary
Kerryn Stow from Kezone dance, Johannesburg (Gauteng), South Africa – variety dance
Julija Vasilkova, Riga, Latvia – classical ballet
Kian Watson from Wat's On Dance Studio, Gauteng, South Africa – ballet
Wat's On Dance Studio, Gauteng, South Africa – ballet

Silver diploma
from 80 to 89 points

Jade Mills from Wat's On Dance Studio, Gauteng, South Africa – contemporary dance
Megan Ahmed from Kezone dance, Johannesburg (Gauteng), South Africa – contemporary
Tumisho Mabelane from Kezone dance, Johannesburg (Gauteng), South Africa – hip-hop
Cailin Benningfield from Wat's On Dance Studio, Gauteng, South Africa – hip-hop
Sulu design school; Atyrau, Kazakhstan – fashion theater

Bronze Diploma
from 70 to 79 points

Jade Mills from Wat's On Dance Studio, Gauteng, South Africa – modern dance
Chanell Mels from Wat's On Dance Studio, Gauteng, South Africa – modern dance
Kate Taylor from Kezone dance, Johannesburg (Gauteng), South Africa – hip-hop

Copper Diploma
up to 70 points
Click on the button👇