Dancing Italy and Sun of Italy, in July 2016 was a great success! We met with a lot of very talented and capable participants. We were very happy to see some of the participants for the second time in our competitions. The big surprise for us was the desire of Roberto Lori, chairman of the jury for choreography, performing an improvised routine with team PreoDrum. The Drums guys from Moscow played perfectly when Roberto was in the spontaneous movements of the genre. It is also important to note that we had to deliver two Grand Prix awards, as two participants were impressed our judges with their talent.
JURY
Luca Tavanti. He is an Italian composer born on 1986; he started studying violin at the age of 6 under the guidance of Vittoria Ottaviani and then he graduated in Computer Music at the Conservatory of Florence in 2014. Currently he's working on the restoration and recovery of audio supports (with MARTlab), teaching, live and studio recording, musical publications and live concerts.
Maicol Alunno. He studied with many choreographers in lot of different schools across Italy. Since 2008 to 2011 he has been a dancer for Compagnia Dilettantistica Toscana. Winner of several contests as a choreographer he opened his own school in 2013. After following a course in Milan for IDA (International Dance Association) he passed successfully the final exam becoming a graduated dance teacher for modern jazz.
POSTER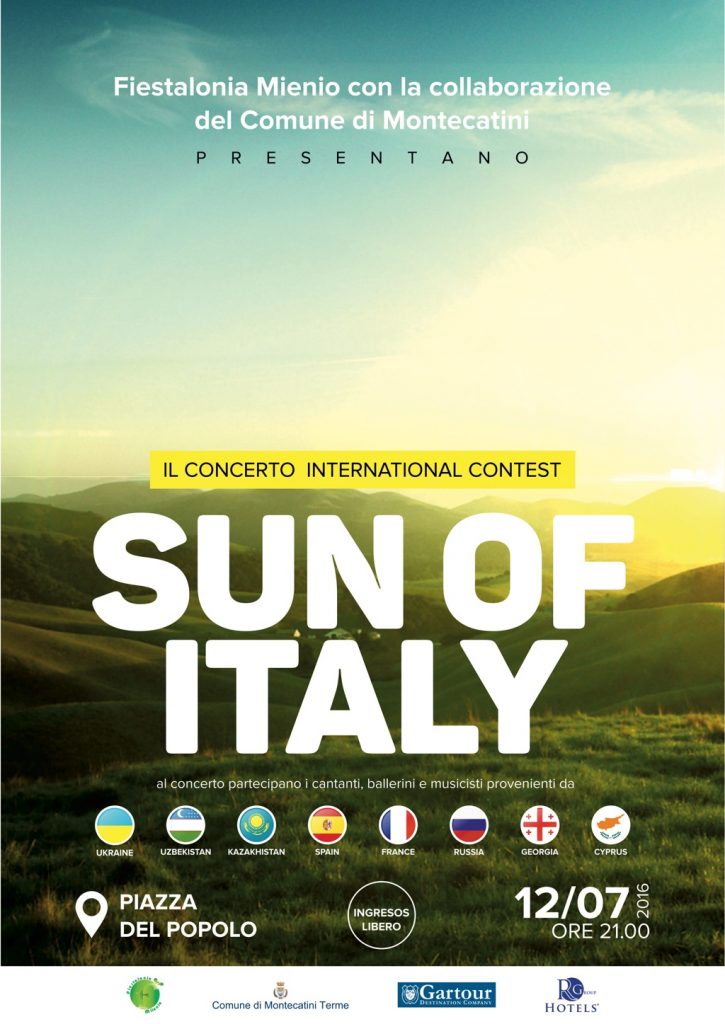 Results of Dancing Italy and Sun of Italy (July 2016, Italy)
GRAND PRIX (Platinum diploma) go to Shimkent, Kazakhstan with Karina Nazhmeddinova in nomination "academic singing" and to Moscow, Russia with group "PreoDrum" in nomination "ensemble of drum".
Nomination «Instrumental groups and soloists»
PreoDrum/ensemble of drum

Platinum diploma
GRAND PRIX
100 points

Nazarov Farkhodjon/piano
Natalya Smirnova/piano

Golden diploma
from 90 to 99 points
Silver diploma
from 80 to 89 points

Aleksandra Sherstobitova/piano
Duet Nini Dumbadze & Dimitri Dumbadze/piano

Bronze Diploma
from 70 to 79 points
Nomination «Singing» (choirs, ensembles, duets, trios, soloists)
Karina Nazhmeddinova/academic singing

Platinum diploma
GRAND PRIX
100 points

Anastasya Ross/pop singing
Kristian Azarov/pop singing
Aleksandra Sherstobitova/pop singing
Vocal ensemble "ZHIBEK" of International Linguistic Gymnasium №105, named by O. Zhandosova/pop singing

Golden diploma
from 90 to 99 points

Pruzhynska Mariia/jazz singing
Kristian Azarov/rock singing
Pruzhynska Mariia/folk singing
Rosinka/ folk singing

Silver diploma
from 80 to 89 points

Sofya Zinovyeva/academic singing
Zabiyaki/theatrical song-musical

Bronze Diploma
from 70 to 79 points
Nominations «Choreographic groups and soloists»
Dudnik Elizaveta/modern dance
Wonders Max from Quiero Ser Artista/sport dance (hip hop)
Sweet Stars from Quiero Ser Artista/variety dance
Quiero Ser Artista/variety dance

Golden diploma
from 90 to 99 points

Wonders from Quiero Ser Artista/sport dance (hip hop)
Dudnik Elizaveta/variety dance
Duet Nynya Shekiladze & Merab Lomadze/variety dance
Blue Moon from Quiero Ser Artista/variety dance (lyric)

Silver diploma
from 80 to 89 points
Bronze Diploma
from 70 to 79 points
Nominations «Theatre»
Children and Youth Theatre-Studio "Et Cetera…"/theatrical miniature

Golden diploma
from 90 to 99 points

Children and Youth Theatre-Studio "Et Cetera…"/modern theatre
Nini Dumbadze & Dimitri Dumbadze

Silver diploma
from 80 to 89 points
Nominations «Artists and authors of the decorative and applied arts' products»
Golden diploma
from 90 to 99 points
Silver diploma
from 80 to 89 points
PHOTO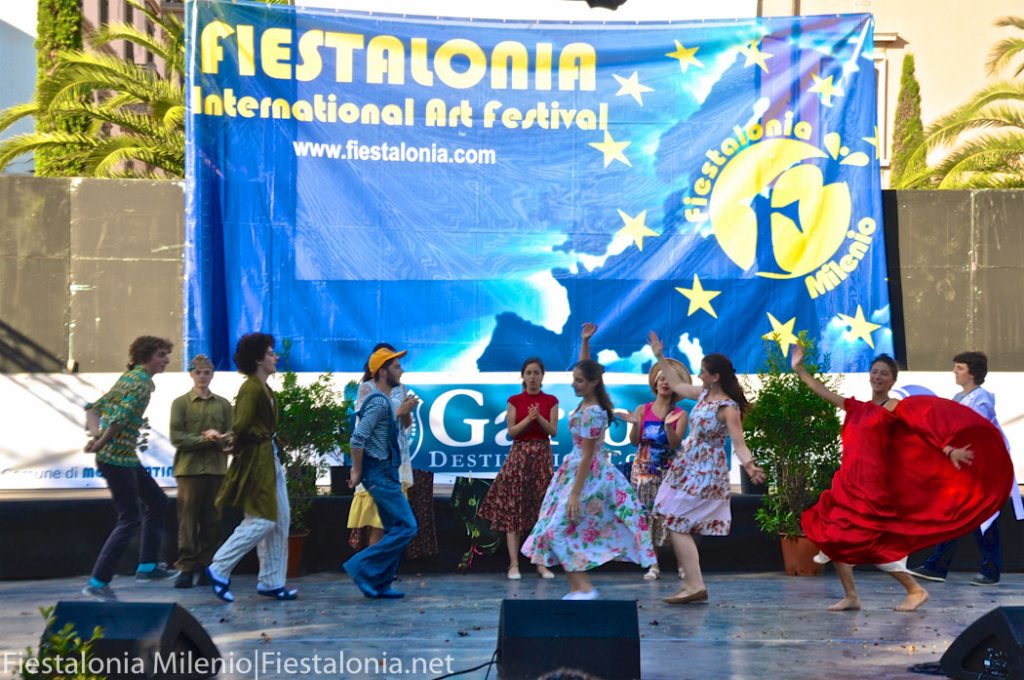 Click on the button👇