The July Sea Sun Festival was a great end to the festival season. Thanks to unique talents, it turned out to be very emotional and vibrant. By covering the audience with their strong positive energy, the participants created an incredible atmosphere of the holiday!
The international contest was held from 7 to 12 of July, 2019 and solemnly summed up the summer festival season of Fiestalonia.
Incredible dancers, great vocalists, virtuoso musicians showed their skills to the jury, met and learned from each other.
The leading choreographer from Los Angeles, MacKenzie Martin Crosley, came to this festival. Together with the participants of the Sea Sun Festival, she staged the final dance for the gala concert, which made the music visible.
According to the results of the jury, the Grand Prix was given to Dance Theater "Konopushki", Russia and the Firebird Dance Theater – Encore, USA within the "Mediterranean Legends".
We congratulate all participants on their success and hope to continue to enjoy their talents.
Participating countries: Uzbekistan, USA, Russia, Kazakhstan, Andorra, Georgia, Spain
JURY
Raffaella Crapio
Sam
POSTER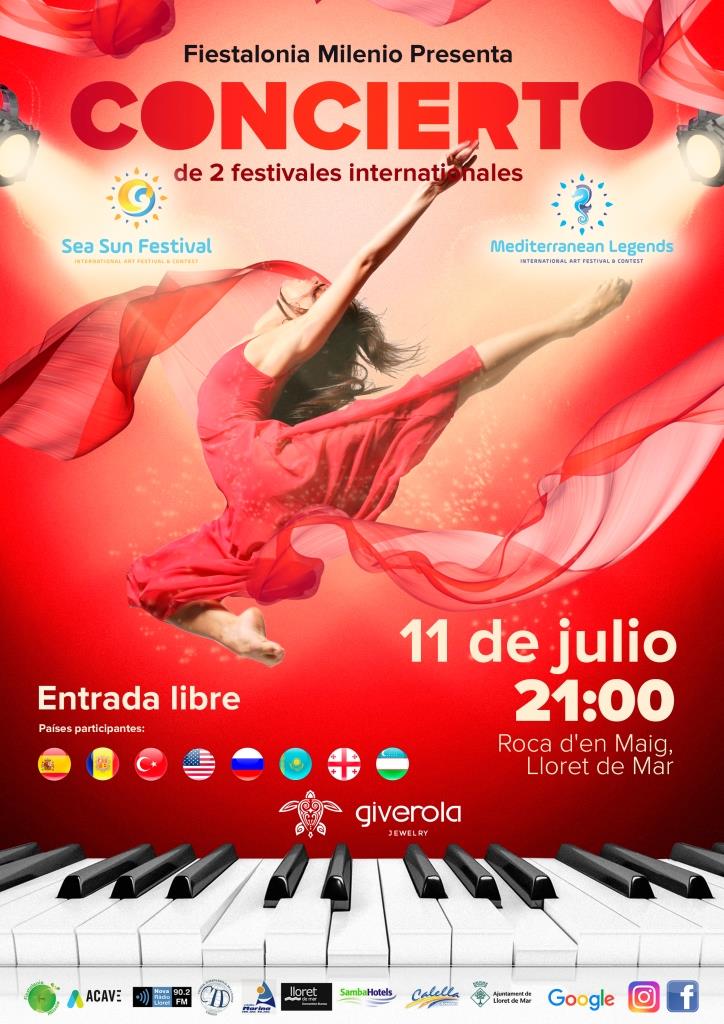 VIDEO
Results of XL Sea Sun Festival (July 2019, Spain)
Nominations «Choreographic groups and soloists»
Dance Theater «Konopushki», Irkutsk, Russia – folk stylized dance – III 13-15
Firebird Dance Theater – Encore, San Francisco and Cupertino, California, USA – folk stylized dance – mixed

GRAND PRIX

100 points

KARINA ALIMBAEVA, Tashkent, Uzbekistan – folk dance
Victoria Senderzon from Firebird Dance Theater – Roses, San Francisco and Cupertino, California, USA – variety dance
DIANA LUZANOVA from Ballet of Elena and Daria Ermilovs «PLATINUM», Rybinsk, Russia – variety dance
Ryzhkova Sofia, Krasnogorsk, Russia – modern dance
Gloria Catherine Kompel from Firebird Dance Theater – Roses, San Francisco and Cupertino, California, USA – variety dance
ZEBO ISMAILOVA, Tashkent, Uzbekistan – folk dance
Almaty Kids Fashion Show, Almaty, Kazakhstan – fashion show Alina Senderzon and Victoria Senderzon from Firebird Dance Theater – Spotlight, San Francisco and Cupertino, California, USA – theatre miniature
Trio from Ballet of Elena and Daria Ermilovs «PLATINUM», Rybinsk, Russia – variety dance
Dance group "Uzbekistan", Tashkent, Uzbekistan – folk dance
Surkhon Sabolari, Termez, Uzbekistan – folk dance
Firebird Dance Theater – Encore, San Francisco and Cupertino, California, USA- theatre miniature – III 13-15
Dance Theater «Konopushki», Irkutsk, Russia – variety dance – III 13-15
Firebird Dance Theater – YAD, San Francisco and Cupertino, California, USA – theatre miniature – mixed
Theatre of clownery and free plastic "LESLIR", Moscow, Russia – clownery
Dance Theater «Konopushki», Irkutsk, Russia – children's dance
GEOMETRY DANCE COMPANY, LOS ANGELES, USA –contemporary
Group Guldasta, Samarkand, Uzbekistan – folk dance
Firebird Dance Theater – Teens, San Francisco and Cupertino, California, USA – theatre miniature – mixed
Ballet of Elena and Daria Ermilovs «PLATINUM», Rybinsk, Russia – variety dance
Dance Theater «Konopushki», Irkutsk, Russia – folk stylized dance – mixed

Golden diploma

from 90 to 99 points

ABDULLAEVA SOGDIANA, Termez, Uzbekistan – folk dance
BAKHRIDDINOVA MUSHTARIYBONU, Termez, Uzbekistan – folk dance
Karymsakova Zerde, Aktobe, Kazakhstan – theatre miniature
Soloist from Firebird Dance Theater – Encore, San Francisco and Cupertino, California, USA – musicals – II 10-12
DARYA MATVEEVA, Tashkent, Uzbekistan – folk dance
Polozova Veronika, Krasnogorsk, Russia – modern dance
Ellie Rochelle Gleyzer from Firebird Dance Theater – Roses, San Francisco and Cupertino, California, USA – theatre miniature
Michelle Kelman from Firebird Dance Theater – Roses, San Francisco and Cupertino, California, USA – variety dance
Duet from Firebird Dance Theater – Spotlight, San Francisco and Cupertino, California, USA – variety dance – I < 9 (6-8)
Gene Chumakov and Paulina Gicqueau from Firebird Dance Theater – Encore, San Francisco and Cupertino, California, USA -theatre miniature
Benjamin Giqueau and Gene Chumakov from Firebird Dance Theater – YAD, San
Francisco and Cupertino, California, USA – theatre miniature
Anna Marie Burton and Uladzislau Lekhtsikau from Firebird Dance Theater – Teens, San Francisco and Cupertino, California, USA – theatre miniature
Firebird Dance Theater – Roses, San Francisco and Cupertino, California, USA – theatre miniature – mixed
Firebird Dance Theater – Spotlight, San Francisco and Cupertino, California, USA – theatre miniature – I < 9
Firebird Dance Theater – Roses, San Francisco and Cupertino, California, USA – theatre miniature – mixed
Firebird Dance Theater – Spotlight, San Francisco and Cupertino, California, USA – theatre miniature – II 10-12
Firebird Dance Theater – Roses, San Francisco and Cupertino, California, USA – theatre miniature – III 13-15
Firebird Dance Theater – Roses, San Francisco and Cupertino, California, USA – theatre miniature – mixed
YOQUBOVA MUNISA, Termez, Uzbekistan – folk dance

Silver diploma

from 80 to 89 points

Scherbakova Valeria, Krasnogorsk, Russia – modern dance
Surkhon Sabolari, Termez, Uzbekistan – modern dance

Bronze Diploma

from 70 to 79 points
Nomination «Singing» (choirs, ensembles, duets, trios, soloists)
Theater of Song "VIVA", Stavropol, Russia – pop singing
Nizharadze Sofiko, Krasnogorsk, Russia – pop singing
Nizharadze Sofiko, Krasnogorsk, Russia – rock and rap
Chereshneva Varvara, Krasnogorsk, Russia – pop singing
Studio of music and drama "MDM", Krasnogorsk, Russia – musical

Golden diploma

from 90 to 99 points

LOVYAGIN MIKHAIL, Gatchina, Russia – pop singing
Nizharadze Sofiko, Krasnogorsk, Russia – jazz singing
Maria Filatova, Dnipro, Ukraine – pop singing
Olga Shchekoldina from Pop-vocal Studio «Academy of voice», Saint-Petersburg, Russia – pop singing
KAMILA ZAKHIDOVA, Tashkent, Uzbekistan – jazz singing
KAMILA ZAKHIDOVA, Tashkent, Uzbekistan – folk singing
Scherbakova Valeria, Krasnogorsk, Russia – pop singing
Lukianenko Julia, Krasnogorsk, Russia – pop singing
KVON KSENIYA, Tashkent, Uzbekistan – pop singing
Rogova Varvara, Krasnogorsk, Russia – pop singing
Mariya Krivenko, Nur Sultan, Kazakhstan – pop singing
Rudenko Andrey, Krasnogorsk, Russia – pop singing
Skornyakova Elena, Moscow, Russia – pop singing
Natia Bibilashvili, Tbilisi, Georgia – pop singing
Jorge García López, Granada, Spain – pop singing
PAK ANNA, Tashkent, Uzbekistan – pop singing
Stanislav Barchenko from Pop-vocal Studio «Academy of voice», Saint-Petersburg, Russia – pop singing
Мariya Kazaryan from Pop-vocal Studio «Academy of voice», Saint-Petersburg, Russia – pop singing

Silver diploma

from 80 to 89 points

Moseyko Alexandra, Volgograd, Russia – academic singing
Nuftolla Nuraiym from School of Art Altyn Zhumatina, Atyrau, Kazakhstan – folk singing
Khamza Aiyrys from School of Art Altyn Zhumatina, Atyrau, Kazakhstan – pop singing
Assylbekkyzy Zere from School of Art Altyn Zhumatina, Atyrau, Kazakhstan – pop singing
Moseyko Alexandra, Volgograd, Russia – pop singing
Vocal ensemble Atyrau, Atyrau, Kazakhstan – pop singing
Vasilenko Eva, Rostov-on-Don, Russia – pop singing
Pereyaslavec Vladimir, Krasnogorsk, Russia – pop singing
Polovinko Anna, Krasnogorsk, Russia – pop singing
Polyakova Ludmila, Krasnogorsk, Russia – pop singing
Sofiia Molchanova, Andorra la Vella, Andorra – pop singing
Kochetkova Viktoria, Krasnogorsk, Russia – pop singing
Khushamova Rushana, Shirabad, Uzbekistan – pop singing
Pimonova Alena, Krasnogorsk, Russia, Teachers – pop singing
Bogdan Baliakin, Moscow, Russia – pop singing
Jorge García López, Granada, Spain – musical
Zamona, Bukhara, Uzbekistan – pop singing

Bronze Diploma

from 70 to 79 points

Mishel Molchanova, Andorra la Vella, Andorra – pop singing
Nikol Molchanova, Andorra la Vella, Andorra – pop singing
Kseniia Kmet, Barcelona, Spain – pop singing

Copper diploma

up to 70 points
Nomination «Instrumental groups and soloists»
Ensemble «Sadozarb», Samarkand, Uzbekistan – dayereh
YULDASHEVA FARZONA BAKHTIYOR KIZI, Fergana, Uzbekistan – violin
ISKANDAROV JAVOHIR, Bukhara, Uzbekistan – accordion
PAK TATYANA, TASHKENT, UZBEKISTAN – piano
ABDULLAEVA DIYORABONU MURODJON KIZI, Tashkent, Uzbekistan – piano
NODIR ABDUMAJIDOV, Tashkent, Uzbekistan – piano
POLINA IURKINA, Vyksa, Russia – piano
POLINA IURKINA & ANASTASIIA PONOMAREVA, Vyksa, Russia – piano

Golden diploma

from 90 to 99 points

LOLA RAKHMANKULOVA, Tashkent, Uzbekistan – saxophone
Fazilova Mariya, TASHKENT, UZBEKISTAN – piano
SAMIRA SHAKIROVA, Tashkent, Uzbekistan – piano
ISLOMOVA MADINA, Bukhara, Uzbekistan – piano
KHALIMJONOVA MAFTUNA, Bukhara, Uzbekistan – piano
LOLA RAKHMANKULOVA, Tashkent, Uzbekistan – piano
SAMIRA SHAKIROVA & NODIR ABDUMAJIDOV, Tashkent, Uzbekistan – piano

Silver diploma

from 80 to 89 points

ZHANERKE KALMANKUL, Almaty, Kazakhstan – piano
DONIYOR SHOKIRJONOV, Tashkent, Uzbekistan – piano
MEKHRIZODA KHASHIMOVA, Tashkent, Uzbekistan – piano
ZUBAYDO ODILOVA, Tashkent, Uzbekistan – piano
DONIYOR SHOKIRJONOV, Tashkent, Uzbekistan – piano/jazz

Bronze Diploma

from 70 to 79 points
Nomination «Students of art colleges, academies and institute/visual arts»
FAZLIDDIN NIZOMIDDINOV, Tashkent, Uzbekistan
Tyan Diana, Tashkent, Uzbekistan

Golden diploma
from 90 to 99 points

Kamildjanova Malika, Tashkent, Uzbekistan

Silver diploma
from 80 to 89 points

ZHANERKE KALMANKUL, Almaty, Kazakhstan

Bronze Diploma
from 70 to 79 points
PHOTO