This year, the international choir contest «Golden Voices of Barcelona» was held from July 7 to 11 on the Costa Brava.
The choir participants from Canada, Ukraine, Taiwan and China had to plunge into the intensive program of the festival: a competition, a gala concert and a performance in the very heart of Barcelona – the crypt of Sagrada Familia.
During the festival, all the participants were offered an incredible master class from the famous Catalan choirmaster Josep Prats. The result of their joint work was the magnificent performance of two pieces: Tres Cantos Krao and James E. Moore: An irish blessing at the main gala concert on the town square near the Mediterranean coast!
The winner of the Grand Prix was the choir from Canada – The Winnipeg Singers, who conquered the jury with their professionalism and allowed the audience to touch the great choral art!
Golden Voices of Barcelona is more than a choral contest, it is the way to achieve high art, it is the event that gives rise to international creative unions and enriches the culture of the whole world.
Participating countries: Canada, Ukraine, Taiwan, China
POSTER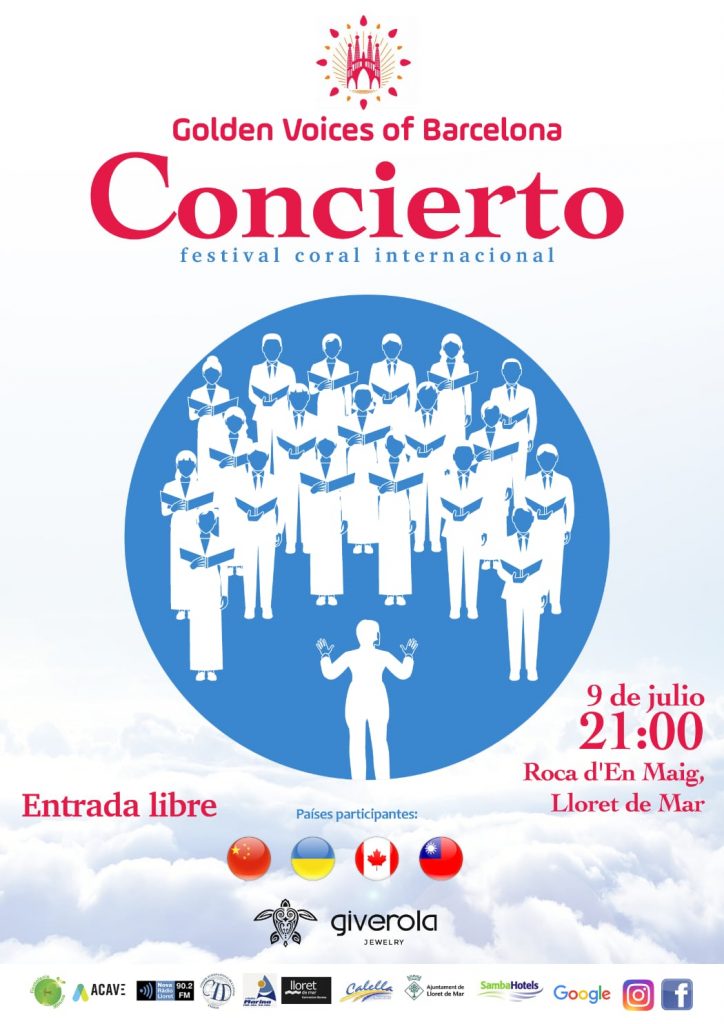 VIDEO
Results of Golden Voices of Barcelona (July 2019, Spain)
The Winnipeg Singers, Winnipeg, Canada – gospel spiritual

GRAN PRIX
100 points

Children's Choir «Zabava», Odessa, Ukraine – children's choirs
The Winnipeg Singers, Winnipeg, Canada – academic singing
Tsing Yang Choir, Hsinchu, Taiwan – church singing
The Winnipeg Singers, Winnipeg, Canada – church singing
Tsing Yang Choir, Hsinchu, Taiwan – folk singing
Students' Choir of Beijing Institute of Technology, Beijing, China -academic singing – mixed

Golden diploma
from 90 to 99 points

YangIn ATayal Voices, Hsinchu, Taiwan – folk singing
Students' Choir of Beijing Institute of Technology, Beijing, China -academic singing – male
Students' Choir of Beijing Institute of Technology, Beijing, China – academic singing – female
Kuang Ching Chorus, Taipei, Taiwan – hakka folk singing

Silver diploma
from 80 to 89 points

YangIn Children's Chorus, Hsinchu, Taiwan – children's choirs

Bronze diploma
from 70 to 79 points
PHOTO