The June Sea Sun Festival was marked by friendship!
From 16 to 21 of June, 2019, the multi-genre Sea Sun Festival was held in the Spanish city of Lloret de Mar. Musicians, dancers, vocalists from Europe, Asia and Africa lit up the stage of the municipal theater with their talents!
For some of the participants, Sea Sun Festival was the first international contest, but there were also those who took part in Fiestalonia – the magnificent ballerina from St. Petersburg Zakharenkova Daria has already conquered Dancing Italy, the dance group Music- and Dance Academy Issakadze & Lukashevich from Ingolstadt, Germany has already pleased us at the International Dance Games, and this time also they brought their adult group to Spain.
We especially want to mention Show Group Artes. For the first time they danced on the stage of Fiestalonia several years ago and they liked it so much that they did their best to come to our contest again. Thanks to their perseverance, the dance "Sunny India" presented by them won the Grand Prix!
Participating countries: Kazakhstan, Russia, Spain, South Africa, Ukraine, Germany
POSTER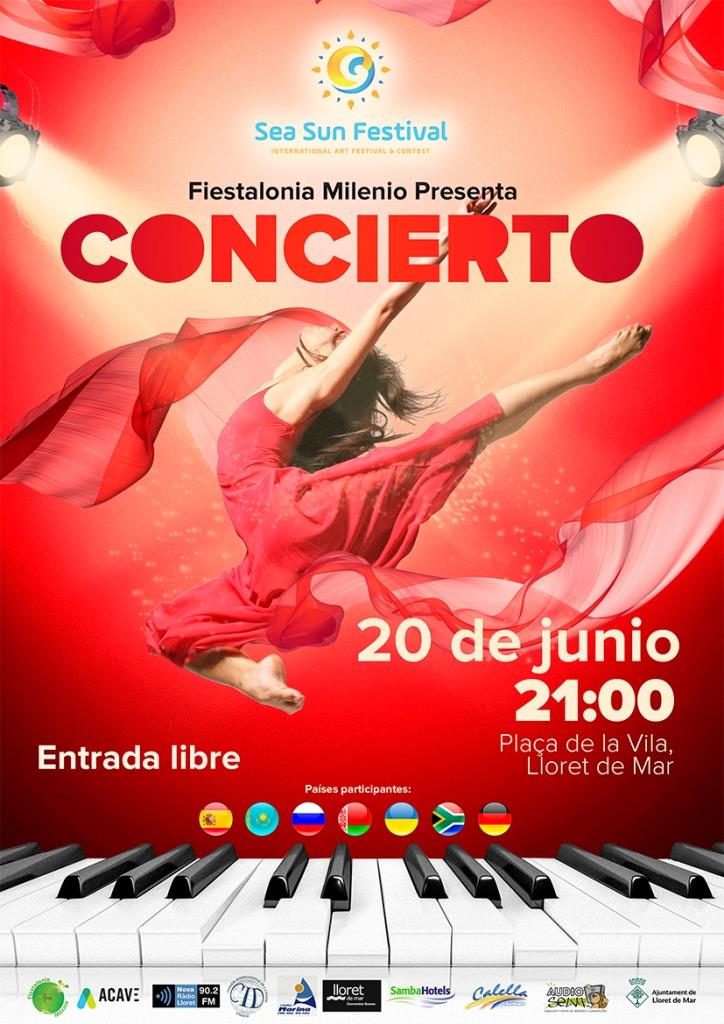 VIDEO
Results of XXXIX Sea Sun Festival (June 2019, Spain)
Nominations «Choreographic groups and soloists»
Show group "ARTES", Volzhsk, Russia/folk stylized dance

GRAND PRIX
100 points

Show group "ARTES", Volzhsk, Russia/variety dance;
Emma Schill from Ballett School Khinganskiy;
Ostfildern, Germany/modern dance;
Zakharenkova Daria, St. Petersburg, Russia/classical balet;
Music- and Dance Academy Issakadze & Lukashevich, Ingolstadt, Germany/modern dance;
Show group "ARTES", Volzhsk, Russia/modern dance
Ballett School Khinganskiy, Ostfildern, Germany/folk stylized dance

Golden diploma
from 90 to 99 points

He Dian, Ozturk Esma from Music – and Dance Academy Issakadze & Lukashevich, Ingolstadt, Germany/classical children ballet/half pointe
Hummel Sophie from Music – and Dance Academy Issakadze & Lukashevich, Ingolstadt, Germany/classical children ballet/pointe
Sarmiento Schwarze Johanna from Music – and Dance Academy Issakadze & Lukashevich, Ingolstadt, Germany/neoclassical ballet/half pointe
Music – and Dance Academy Issakadze & Lukashevich, Ingolstadt, Germany/classical children ballet/half pointe
Dance Family from All Stars Dance Center, Kharkiv, Ukraine/contemporary dance
Music- and Dance Academy Issakadze & Lukashevich, Ingolstadt, Germany/ mixed 7-11/classical children ballet/half pointe

Silver diploma
from 80 to 89 points

Dobusch Melanie from Music – and Dance Academy Issakadze & Lukashevich, Ingolstadt, Germany/classical children ballet/half pointe
Galis Alessia Andreea from Music- and Dance Academy Issakadze & Lukashevich, Ingolstadt, Germany/classical children ballet/half pointe
Malik Yelyzaveta from All Stars Dance Center, Kharkiv, Ukraine/ contemporary dance
Pavlova Anastasiia, Kharkiv, Ukraine/contemporary dance
Dobusch Melanie from Music – and Dance Academy Issakadze & Lukashevich, Ingolstadt, Germany/neoclassical ballet/pointe
Music – and Dance Academy Issakadze & Lukashevich, Ingolstadt, Germany/mixed 11-14/classical children ballet/pointe

Bronze Diploma
from 70 to 79 points

Pohl Amelie from Music – and Dance Academy Issakadze & Lukashevich, Ingolstadt, Germany/classical ballet/half points

Copper diploma
up to 70 points
Nomination «Singing» (choirs, ensembles, duets, trios, soloists)
Vocal theatre « Amadea », Moscow, Russia/pop singing
Kirillova Polina, Moscow, Russia/pop singing
Azamov Egor, Kirillova Polina, Moscow, Russia/pop singing
Azamov Alexey, Retyunskikh Nataliya, Moscow, Russia/pop singing

Golden diploma
from 90 to 99 points

Marina Kafferatta from Vocal Study « Bel Art », Castelldefels, Spain/pop singing
Retyunskikh Kirill, Moscow, Russia/pop singing
Azamov Egor, Moscow, Russia/pop singing
Pozdeeva Daria, Ekaterinburg, Russia/jazz singing
Potetinova Anastasiia, Moscow, Russia/pop singing
Valeeva Milana, Moscow, Russia/pop singing

Silver diploma
from 80 to 89 points

Buyakova Tatiana, Moscow, Russia/pop singing
Ivchenkov Daniil, Moscow, Russia/pop singing
Pozdeeva Daria, Ekaterinburg, Russia/pop singing

Bronze Diploma
from 70 to 79 points

KATRINA LIDUMA from Vocal Study « Bel Art », Castelldefels, Spain, Teacher/Director: DEMENTYEVA NATALIA/pop singing

Copper diploma
up to 70 points
Nomination «Instrumental groups and soloists»
Gimnasium High School band, Paarl, South Africa/instrumental folk orchestra
Mubarakova Madina from School for gifted children at the Kazakh National University of Arts, Nur Sultan, Kazakhstan/kobyz
Gaini Yespergenova, Almaty, Kazakhstan/piano
YEGIZBAYEVA DINARA, Nur-Sultan, Kazakhstan/piano

Golden diploma
from 90 to 99 points

DAIANA ONAYEVA, Nur-Sultan, Kazakhstan/violin
Kuanaysh Madina from School for gifted children at the Kazakh National University of Arts, Nur Sultan, Kazakhstan/kobyz
Amangeldi Ayaulaym from School for gifted children at the Kazakh National University of Arts, Nur Sultan, Kazakhstan/kobyz
Olga Pluzhnikova, Naberezhnye Chelny, Russia/flute
ASSAFOVA KARINA, Nur-Sultan, Kazakhstan/piano

Silver diploma
from 80 to 89 points

Zhanel Rakhmatullayeva, Nur-Sultan, Kazakhstan/violin

Bronze Diploma
from 70 to 79 points
PHOTO