The international festival-contest « Sea Sun Festival » started on 6th of May, 2018 in Spain, and was attended by more than 500 participants from 15 countries. Indisputable talents of 3 continents have solemnly opened the season of festivals of children's and teenage creativity!
« Sea Sun Festival » is not just an international festival, it's an amazing journey for inspiration. To search for it, all participants were invited to visit excursions to Montserrat, Barcelona or the Salvador Dalí's Museum, as well as to take part in the unique flamenco workshop. The dance group "Andriette Roux School" from South Africa and young dancers from "Veresk", Russia did not miss the opportunity to learn the technique of dance of passion and energy.
The first festival of the « Sea and Sun » this year ended with a stunning gala concert at which the awards ceremony took place. The magical atmosphere of the holiday dispersed the clouds and allowed the participants to shine in front of thousands of people.
Guitars from Turkey, a flute from Russia, as well as national instruments of Uzbekistan and Kazakhstan sounded in the city square of Lloret de Mar.
The performance of the dance group « First Line » from Nakhodka sent us to the streets of Paris, the bright dance with the flaming fire of « SMAN 28 JAKARTA », Indonesia, the dance with the fans of « Roza Vetrov » from Finland and the pair dance from the USA fascinated and impressed the audience.
Fireworks of emotions and applauses were caused by the singers of the vocal schools « Balanchino » and « Nuance » and children's choir « Çevre Koleji ».
The final dance for the popular song « My way » brought together all the participants of « Sea Sun Festival » and became the perfect ending of the gala concert.
At the awarding ceremony, all the contestants were awarded with the diplomas and plaques. The Grand Prix of this festival was given to the dancing ensemble « Halisi », Moscow.
Fiestalonia wants to thank all the participants for their talents, creativity, work and radiant smiles. We wish you creative success and look forward to seeing you again at « Sea Sun Festival », which will be held from 17 to 22 June, 2018, from 08 to 13 July and from 23 to 28 September 2018 in Spain.
JURY
Susana del Saz
Pep Busquets
POSTER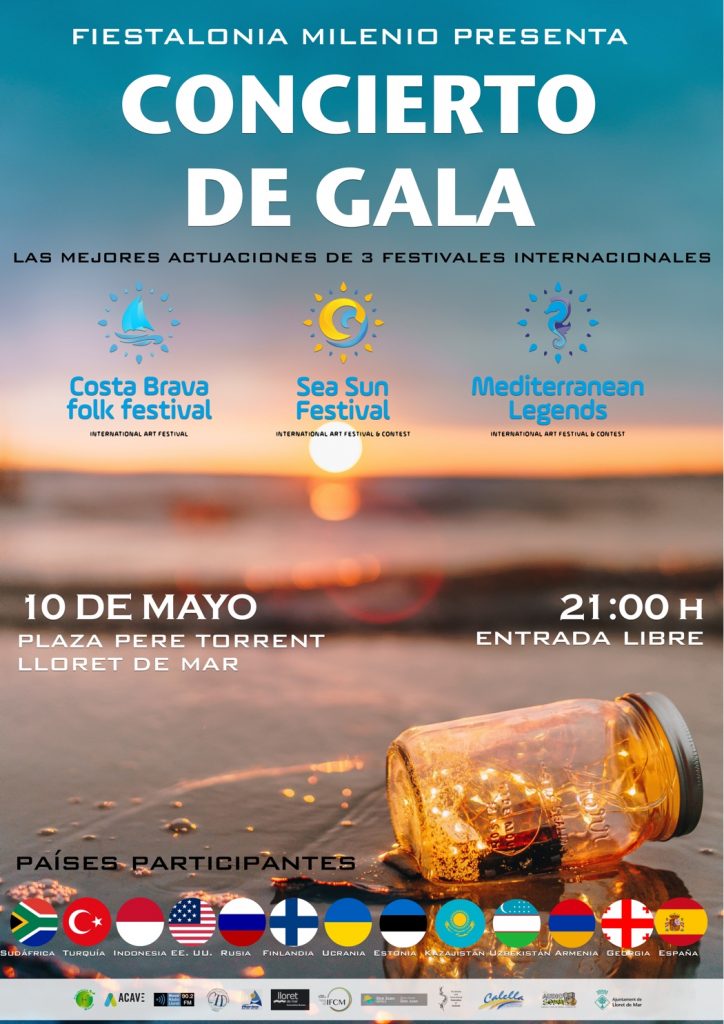 VIDEO
Results of XXXIV Sea Sun Festival (May 2018, Spain)
GRAND PRIX (Platinum diploma) go to Moscow, Russia withDance ensemble of the peoples of the Caucasus « Halisi » in nomination "Folk Dance".
Nominations «Choreographic groups and soloists»
Dance ensemble

of the peoples of the Caucasus « Halisi »/folk dance

GRAND PRIX
100 points

First Line/modern dance
First Line/modern dance/III
Andriëtte Roux School of Dance/jazz dance/mixed
Andriëtte Roux School of Dance/modern dance/mixed
Andriëtte Roux School of Dance/modern dance/VI
Dance studio Roza vetrov/variety dance/mixed
Purdue Contemporary Dance/modern dance

Golden diploma
from 90 to 99 points

Malykh Arina from Ensemble of the stylized folk dance "Veresk »/folk stylized dance
Duet from Dance ensemble of the peoples of the Caucasus « Halisi»/folk dance/II
Duet from Dance ensemble of the peoples of the Caucasus « Halisi»/folk dance/III
SMAN 28 JAKARTA, Jakarta, Indonesia/folk dance
First Line/variety dance
Dance studio Step Up/sport dance
CAN ERSÖZ, Istanbul, Turkey/ilision
Andriëtte Roux School of Dance/social dance/VI

Silver diploma
from 80 to 89 points

Ivanova Sofiia from Ensemble of the stylized folk dance Veresk/folk stylized dance
Andriëtte Roux School of Dance/sport dance/II
Andriëtte Roux School of Dance/classical dance/II
Andriëtte Roux School of Dance/classical dance/II
Andriëtte Roux School of Dance/classical dance/IV
Andriëtte Roux School of Dance/classical dance/IV
Andriëtte Roux School of Dance/modern dance/II
Andriëtte Roux School of Dance/modern dance/mixed 10-13
Andriëtte Roux School of Dance/modern dance/mixed
Dance studio Step Up/modern dance/mixed 4-17
Ensemble of the stylized folk dance Veresk/folk stylized dance

Bronze Diploma
from 70 to 79 points
Nomination «Singing» (choirs, ensembles, duets, trios, soloists)
Sisauri Anastasia from Vocal Studio « Balanchino »/pop singing
Sisauri Anastasia from Vocal Studio « Balanchino »/jazz singing
Milana Sarukhanyan/academic singing

Golden diploma
from 90 to 99 points

Theater Studio «Fantasery» from Russian school "Zolotoy klyuchik"/musical
Alicia Petina Leon from Vocal studio « Zvezdochka »/pop singing
Nikol Molchanova from Vocal studio « Zvezdochka »/pop singing
Nicolay Mikaelyan from TMT Nuance/pop singing
Nicolay Mikaelyan from TMT Nuance/jazz singing
Duet Sisauri Anastasia & Avazneli Anna from Vocal Studio « Balanchino »/jazz singing
Kritsko Antonina from TMT Nuance/pop singing
Cevre Schools Polıfonu Choır/pop singing

Silver diploma
from 80 to 89 points

Podteroba Nikol from Vocal Studio « Balanchino »/musical
Podteroba Nikol from Vocal Studio « Balanchino »/pop singing
Avazneli Anna from Vocal Studio « Balanchino »/pop
Avazneli Anna from Vocal Studio « Balanchino »/folk still with pop singing
Vakhaniya Salome from Vocal Studio « Balanchino »/ folk still with pop singing
Kritsko Antonina from TMT Nuance/jazz singing

Bronze Diploma
from 70 to 79 points

Nadezhda Iakusheva from TMT Nuance/pop singing
Nadezhda Iakusheva from TMT Nuance/jazz singing
Kseniia Kmet from Vocal studio « Zvezdochka »/pop singing
Barsukova Lana from Vocal Studio « Balanchino »/pop singing
Davidova Olga from Vocal Studio « Balanchino »/pop singing
Davidova Olga from Vocal Studio « Balanchino »/jazz singing
Vakhaniya Salome from Vocal Studio « Balanchino »/pop singing
Maria Frolova from TMT Nuance/pop singing
Maria Frolova from TMT Nuance/jazz singing
Madina Ismailova from TMT Nuance/pop singing
Madina Ismailova from TMT Nuance/jazz singing
Anzhela Tsyrkina from TMT Nuance/pop singing
Anzhela Tsyrkina from TMT Nuance/jazz singing

Copper diploma
up to 70 points
Nomination « Instrumental groups and soloists»
Andrey Bubnov/flute
Isroilov Sardor/afgan rubab
Hisar School Classic Guitar Orchestra/classical guitar orchestra

Golden diploma
from 90 to 99 points
Silver diploma
from 80 to 89 points

Özel İzmir Amerikan Koleji/jazz music/group I
Özel İzmir Amerikan Koleji/jazz music/group II
Özel İzmir Amerikan Koleji/pop music
Amina Amrina/dombra
Dry noise maker/pop music
It means who moves on their desire/pop music

Copper diploma
up to 70 points
PHOTO