The XXXII International Festival-Contest Sea Sun Festival became really hot. Our participants demonstrated all their talents and abilities! Members of the jury were delighted with representatives of all 13 countries that took part in the festival-contest. At the end of the program, all participants marched through the city, and then performed in front of hundreds of spectators!
The countries which participated:
Russia, South Africa, Morocco, Puerto Rico, China, Cameroon, Israel, Poland, Uzbekistan, Azerbaijan, Kazakhstan, Canada, Spain.
JURY
María Luz Martínez Farías
Kristaps Jaunzeikars
Susana del Saz
Tatiana Gópkalo
POSTER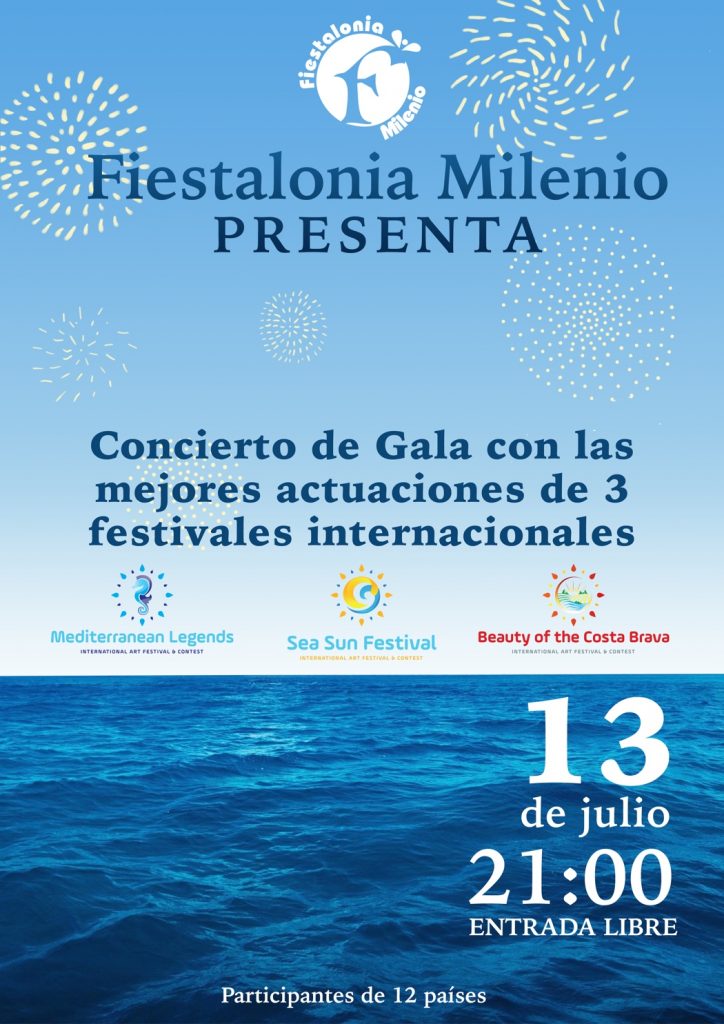 VIDEO
Results of XXXII Sea Sun Festival July 2017, Spain
Nominations «Choreographic groups and soloists»
Duet Goldin Amiryan & Losiva Ekaterina/ballroom dance
Yusupova Munavvarakxon/folk dance
Trimica Appel from Kezone Dance Group/hip hop
Anorkulova Nilufar/folk stylized dance
Nichita Smirnov/hip hop
Ilona Prutean/modern-contemporary

Golden diploma
from 90 to 99 points

Samira Abdurashitova/folk dance
Yasmina Umarova/folk dance
Duet Kathleen Wilson & Kerryn Stow/social dance
Theatre of dance «Excellent-V»/folk dance/ age category mixed 8-10
Karakat studiya/folk dance
Trimica Appel from Kezone Dance Group/modern-contemporary
Duet Kathleen Wilson & Kerryn Stow/modern-contemporary
Mokhinur Muzafarova/folk dance
Zhamalbek Keremet/folk dance
Yusupova Munavvarakxon/folk stylized dance
Trimica Appel from Kezone Dance Group/break dance
Trio from the group «NURLI»/folk dance
Ilona Prutean/belly dance
Kerryn Stow/contemporary
Daniela Ciobanu/variety dance
Kerryn Stow/hip hop
Theatre of dance «Excellent-V»/ folk dance/age category mixed 15-22
Duet Kathleen Wilson & Kerryn Stow/hip hop

Silver diploma from 80 to 89 points

Karakat studiya/pop dance/age category I
Karakat studiya/folk dance/age category I
Karakat studiya/oriental dance/age category mixed 8-10
Duet Batyrkhanova Kamila & Batyrkhanov Amir/sport dance
Kathleen Wilson/modern dance

Bronze Diploma
from 70 to 79 points
Nomination «Singing» (choirs, ensembles, duets, trios, soloists)
Emiliya Rasulova/pop
Dmitrii Petrov/pop
Anna Petrova & Dmitrii Petrov/pop

Golden diploma
from 90 to 99 points

Daria Mychelkina/academic singing
Dmitrii Petrov/academic singing
Khatyants Leyla/pop singing
Niyasova Sagdiana/pop singing
Anorkulova Nilufar/pop singing
Emiliya Rasulova/pop singing
Curencova Xenia/pop singing
Johanna M Koster/pop singing

Silver diploma
from 80 to 89 points

Anna Petrova/academic singing
Tulebaeva Erkesulu/pop singing
Bolubayeva Kaussar/pop singing
Stepanenko Anastasiya/pop singing
Pegay Aleksandra/pop singing
Goldin Amiryan/pop singing
Losiva Ekaterina/pop singing
Trio Borisova Margarita, Losiva Ekaterina, Pegay Aleksandra/pop singing
Karimova Madina/pop singing
Kamila Zakhidova/pop singing
Anna Petrova/pop singing
Shaizada Moldir/pop singing
Anastasia Oprinenco/pop singing

Bronze Diploma
from 70 to 79 points

Mariia Filatova/pop singing
Borisova Margarita/pop singing
Abduazimova Yasmin/pop singing
Akilova Malika/pop singing
Khasanova Riana/pop singing
Nikolayeva Arina/pop singing
Yessilbekova Aruzhan/pop singing
Kasimova Nigina/pop singing
Karimova Madina & Yessilbekova Aruzhan/pop singing
Berikova Azhar/pop singing
Kamila Zakhidova/rock and rap

Copper diploma
up to 70 points
Nomination «Instrumental groups and soloists»
Jasmina Khamidullaeva/violin

Silver diploma
from 80 to 89 points
Bronze Diploma
from 70 to 79 points
PHOTO