The first Sea Sun Festival of this year had a great success.
The multi-genre festival was held from 4 to 10 May 2019 and provided an opportunity to see the most diverse and sometimes unexpected performances of the participants: from bright theater performances, virtuoso orchestral works, classical dances and magnificent choral singing.
The contest took place on the huge stage of the city theater of Lloret de Mar, behind the scenes of which the excitement was overwhelming, tears of joy were flowing and a feeling of euphoria was soaring!
After the contest, many people wanted to taste the Spanish culture at the Flamenco Grand Casino show and try themselves in this dance art with a master class in flamenco.
The gala concert took all the participants to the embankment of the Mediterranean Sea. It was there, where meeting the pink sunset on the stage, all participants had the opportunity to show their art to the local people and visitors to the city.
It has long been a tradition of Fiestalonia to end the "Sea Sun Festival" concert with a joint choreography of all festival participants. And the May Sea Sun was no exception. Under the powerful song by Pharrell Williams "Freedom", the young dancers, taking off their shackles, felt this freedom and just enjoyed the dance.
The long-awaited event – the award ceremony – filled the stage with glee! The May festival has become special not only for the contestants, but also for the Fiestalonia team, as it presented as many as three grand prix !!!
Participating countries: Turkey, Poland, Spain, Ukraine, Georgia.
POSTER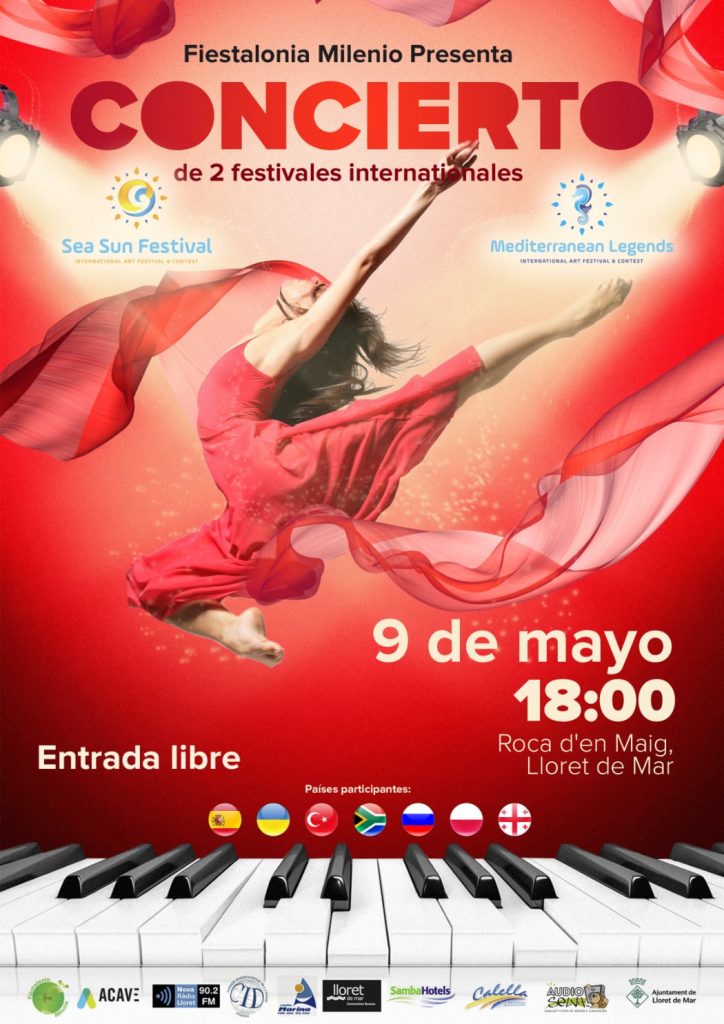 VIDEO
Results of XXXVIII Sea Sun Festival (May 2019, Spain)
Nominations «Choreographic groups and soloists»
Children Revue «Sylaba», Wyszków, Poland/variety dance

GRAND PRIX
100 points

Children Revue «Sylaba», Wyszków, Poland/modern dance/III 13-15
Children's musical theater «Gold key», Dnipro, Ukraine/musical dance
AISI, Tbilisi, Georgia/folk dance
Children Revue «Sylaba», Wyszków, Poland/folk stylized dance/mixed
Exemplary Children's Choreographic Studio «Serpantine», Ufa, Russia/classical balet
Children Revue «Sylaba», Wyszków, Poland/variety dance/mixed

Golden diploma
from 90 to 91Умничка!

Krylova Varvara, Ufa, Russia/classical balet
Duet from Youth Entreprise "ART-Chance", Volgograd, Russia/modern dance
Children Revue «Sylaba», Wyszków, Poland/variety dance/II 10-12
Children Revue «Sylaba», Wyszków, Poland/modern dance/III 13-15

Silver diploma
from 80 to 89 points

Zakirbaieva Alisa, Dnipro, Ukraine/modern dance
Kim Polina, Dnipro, Ukraine/modern dance
ADRIANNA DENIS, Wyszków, Poland/modern dance
Duet from Youth Entreprise "ART-Chance", Volgograd, Russia/variety dance
Trio from Children Revue «Sylaba», Wyszków, Poland/modern dance/IV 16-19
Duet from Children Revue «Sylaba», Wyszków, Poland/modern dance/IV 16-19

Bronze Diploma
from 70 to 79 points

Magic Show Ballet, Tbilisi, Georgia/variety dance

Copper diploma
up to 70 points
Nomination «Singing» (choirs, ensembles, duets, trios, soloists)
SAGALOBELI, Tbilisi/folk singing

GRAND PRIX
100 points

Skornyakova Elena, Moscow, Russia/pop singing
Youth Entreprise "ART-Chance", Volgograd, Russia/musical theater

Golden diploma
from 90 to 99 points

Naumenko Polina, Dnipro/pop singing
The group «MUSIC WIZARDS» from the ensemble of modern vocal «Voice», Troitsk, Russia/pop singing
School Choir of Secondary school № 6, «Vdokhnoveniye"/choir

Silver diploma
from 80 to 89 points

Veronika Denisenko, Troitsk, Russia/pop singing

Bronze Diploma
from 70 to 79 points

Volfovych Yelyzaveta, Dnipro, Ukraine/pop singing

Copper diploma
up to 70 points
Nomination « Instrumental groups and soloists»
KAAN TURAN from ACI CLASSICAL MUSIC & FILM ORCHESTRA, IZMIR, TURKEY/piano

GRAND PRIX
100 points

DORUK SEKERCIOGLU from ACI CLASSICAL MUSIC & FILM ORCHESTRA, IZMIR, TURKEY/piano

Golden diploma
from 90 to 99 points

PRISHVINA KSENIIA from Lyceum of Arts St. Petersburg, Russia/piano
BAKLANOVA ELENA from Lyceum of Arts St. Petersburg, Russia/piano

Silver diploma
from 80 to 89 points

ACI CLASSICAL MUSIC & FILM ORCHESTRA, IZMIR, TURKEY/chamber orchestra
PRISHVIN ALEKSEI from Lyceum of Arts St. Petersburg, Russia/piano
ARNDT GLEB from Lyceum of Arts St. Petersburg, Russia/piano
Revival, Istanbul, Turkey/folk orchesrtra ensemble

Bronze Diploma
from 70 to 79 points

ANASTASIA MANTSKAVA, Tbilisi, Georgia/flute
Özel İzmir Amerikan Koleji, Izmir, Turkey/rock

Copper diploma
up to 70 points
PHOTO