From 8 to 13 July 2018 in the coastal town of Lloret de Mar, Spain once again thundered the creative salute at the international festival-contest «Sea Sun Festival«.
This prestigious event brought together talented people from Israel, South Africa, Iran, Georgia, Uzbekistan, Russia, Kazakhstan, the United States and Azerbaijan and allowed each participant to taste the rich cultural heritage of Spain and engage with the culture of other participants. Through music, dance and singing, «Sea Sun Festival» was able to lay the foundation for friendship and peaceful unity.
The rich program of the festival took the participants into a whirlpool of unforgettable events. Bright sun, warm Mediterranean Sea, fascinating excursions to Montserrat, Barcelona and the Salvador Dalí Museum, the flamenco master class – inspiration came from everywhere!
Recharged from such a strong source of positive energy, each participant not only demonstrated their talents, but also opened their soul to a highly professional jury and local people.
In the end of the contest program, all participants marched through the city, and then performed in front of hundreds of viewers in the main city square. The bright gala concert ended with a common dance for the popular song of this summer Alvaro Soler «La Cintura» and the awards ceremony in a solemn atmosphere. The Grand Prix was given to the team from Israel «Sarith Kapon Dance Center».
Fiestalonia wants to thank all participants of this festival for their talent, skills, perseverance and work. We hope to see your happy faces and radiant smiles again.
Participating countries:
Israel, South Africa, Iran, Georgia, Uzbekistan, Russia, Kazakhstan, USA, Azerbaijan
POSTER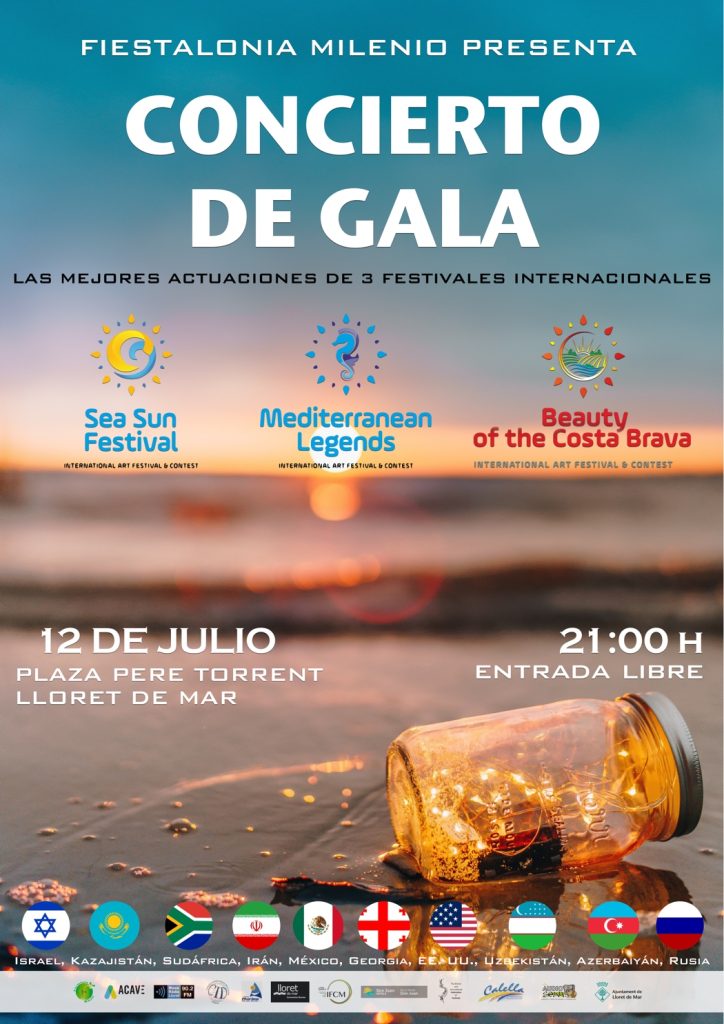 VIDEO
Results of XXXVI Sea Sun Festival (July 2018, Spain)
GRAND PRIX (Platinum diploma) go to Eilat, Israel with Sarith Kapon Dance Center in the nomination "jazz dance".
Nominations «Choreographic groups and soloists»
Sarith Kapon Dance Center/jazz dance

GRAND PRIX
100 points

Sidorova Zlata/modern dance
Kian Watson/hip hop
Jayme Golding & Loreal Oliphant/contemporary
Sue-Ellen Vermaak/contemporary
Adi Ofir & Naama Benshlush/modern dance
Loreal Oliphant/contemporary
Sue-Ellen Vermaak & Cahntal Watson/contemporary
Jordan Thatcher/hip hop
Joshua Thatcher/hip hop
Opal Talker/jazz dance
Joshua Thatcher & Jordan Thatcher/hip hop
Jayme Golding/contemporary
Group CLASSI-KAL from Pirouette Jerusalem Dance Center/folk dance
Group Altentatriva from Pirouette Jerusalem Dance Center/jazz dance
Kezone Dance/hip hop/VI from 26 years old

Golden diploma
from 90 to 99 points

Barko Daria/folk-stylized dance
Leira Ahmed/hip hop
Jade Veretnik/hip hop
Nikhita Lalla/hip hop
Vannia Infanti & Jade Veretnik/hip hop
Enzo Vicente/hip hop
Jayme Golding/classical ballet
Leira Ahmed/contemporary
Trimica Appel/contemporary
Zoe Watson & Chantal Watson/contemporary
Kian Watson/ballet
Zoe Watson/contemporary
Quartet from Wat's On Dance Studio/contemporary
Enzo Vicente & Kian Watson/hip hop
Kerryn Stow & Mark Rorke/adage
Maka Makharadze Ballet Studio/classical ballet
Kezone Dance/mixed

Silver diploma
from 80 to 89 points

Konovalova Aleksandra/folk-stylized dance
Vannia Infanti/hip hop
Trimica Appel/classical ballet
Chanell Mels/classical ballet
Anne Hough/classical ballet
Vannia Infanti/contemporary
Jade Veretnik/contemporary
Tayla Swift/contemporary
Anne Hough & Chanell Mels/contemporary
Chanell Mels/contemporary
Lorin Buchner/hip hop
Enzo Vicente/classical ballet
Sarah Mullinder/contemporary
Sarah Mullinder/hip hop
Anne Hough/contemporary
Cara-Dawn Hillbrook/acro
Kezone Dance/contemporary/mixed 9-31
Kezone Dance/hip hop/mixed 9-13
Kezone Dance/contemporary/mixed 9-13

Bronze Diploma
from 70 to 79 points
Nomination «Singing» (choirs, ensembles, duets, trios, soloists)
National ensemble «Russian patterns»/folk singing

GRAND PRIX
100 points

DENIS PSHENISNOV/academic singing
Trio from Vocal Ensemble «ZHIBEK»/pop singing

Silver diploma
from 80 to 89 points

DENIS PSHENISNOV/pop singing

Bronze Diploma
from 70 to 79 points
Nomination «Instrumental groups and soloists»
Sereshk Ensemble/instrumental group
Mekhrizoda Khashimova/piano

Golden diploma
from 90 to 99 points
Nomination «Students of art colleges, academies and institute/visual arts»
MARTHA MARKOVA
SOFIA PSHENISNOVA
ELIZAVETA GRIGORYEVA

Golden diploma

from 90 to 99 points

SAKHAROVSKAIA IRINA
RENATA KHAZIMURATOVA
MARGARITA SUMARINA

Silver diploma
from 80 to 89 points

FILINA ANASTASIIA
IRINA AZGAROVA
POLINA LEVENSTAM
NIKITA LIUBAEV
ANNA OVAKIMYAN
LILIT SARKISIAN
MARIA SHOKINA
MARIIA KOROLEVA

Bronze Diploma
from 70 to 79 points
PHOTO