The international festival-contest Sea Sun Festival was held From 17 to 22 June 2018. The warm Mediterranean Sea and the bright Spanish sun attracted many participants from all over the world.
The festival program began with a contest, which took place on the stage of Auditorium hall at Gran Casino Costa Brava. The professional jury not only evaluated the creative performances of the participants but also selected the brightest and the most memorizing ones for the gala concert.
After the competition part of the festival, the contestants were invited to prepare a joint dance choreography to the song «Heroes» of Mans Zelmerlow.
The friendly environment, that disposes of new knowledge, exchange of experience and the culture, sightseeing tour through the amazing places of the Costa Brava immersed the participants in an atmosphere of creativity and inspiration.
Recharged with the energy of the sea and the sun, the contestants got on stage again, but this time to share their talent with the local people.
The town square of Lloret de Mar sounded as Kazakh folk musical instruments, floated in the air together with the young dancer Viktoria Astapenko, shone on with the smile of the guests of the festival Dance Academy «Alira», sang with the «Ainalayin» and «The Lady Elizabeth School Show Choir», rejoiced over the performances of the dance ensemble «Radost» and set the flamenco fire with the ensemble «Tamsan».
The joint final dance marked the beginning of the solemn awarding ceremony, where all participants were awarded diplomas, cups and commemorative plaques.
The whirlpool of positive and kind emotions that overcome all the participants and viewers was so strong that the unexpected singing of the dance group «Hora Gezer» from Israel became the culmination of this event and was the soulful end of the evening.
JURY
POSTER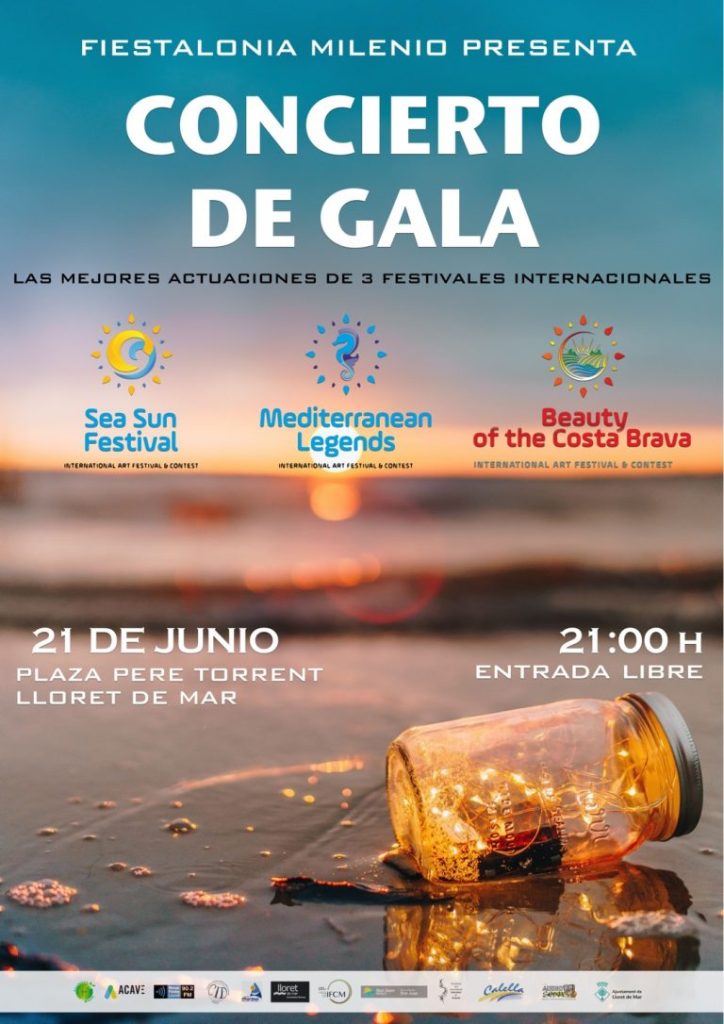 VIDEO
Results of XXXV Sea Sun Festival (June 2018, Spain)
Nominations «Choreographic groups and soloists»
Dance ensemble

of the peoples of the Caucasus «Halisi»/folk dance

GRAND PRIX
100 points

First Line/modern dance
First Line/modern dance/III
Andriëtte Roux School of Dance/jazz dance/mixed
Andriëtte Roux School of Dance/modern dance/mixed
Andriëtte Roux School of Dance/modern dance/VI
Dance studio Roza vetrov/variety dance/mixed
Purdue Contemporary Dance/modern dance

Golden diploma
from 90 to 99 points

Malykh Arina from Ensemble of the stylized folk dance "Veresk»/folk stylized dance
Duet from Dance ensemble of the peoples of the Caucasus «Halisi»/folk dance/II
Duet from Dance ensemble of the peoples of the Caucasus «Halisi»/folk dance/III
SMAN 28 JAKARTA, Jakarta, Indonesia/folk dance
First Line/variety dance
Dance studio Step Up/sport dance
CAN ERSÖZ, Istanbul, Turkey/ilision
Andriëtte Roux School of Dance/social dance/VI

Silver diploma
from 80 to 89 points

Ivanova Sofiia from Ensemble of the stylized folk dance Veresk/folk stylized dance
Andriëtte Roux School of Dance/sport dance/II
Andriëtte Roux School of Dance/classical dance/II
Andriëtte Roux School of Dance/classical dance/II
Andriëtte Roux School of Dance/classical dance/IV
Andriëtte Roux School of Dance/classical dance/IV
Andriëtte Roux School of Dance/modern dance/II
Andriëtte Roux School of Dance/modern dance/mixed 10-13
Andriëtte Roux School of Dance/modern dance/mixed
Dance studio Step Up/modern dance/mixed 4-17
Ensemble of the stylized folk dance Veresk/folk stylized dance

Bronze Diploma
from 70 to 79 points
Nomination «Singing» (choirs, ensembles, duets, trios, soloists)
Sisauri Anastasia from Vocal Studio «Balanchino»/pop singing
Sisauri Anastasia from Vocal Studio «Balanchino»/jazz singing
Milana Sarukhanyan/academic singing

Golden diploma
from 90 to 99 points

Theater Studio «Fantasery» from Russian school "Zolotoy klyuchik"/musical
Alicia Petina Leon from Vocal studio «Zvezdochka»/pop singing
Nikol Molchanova from Vocal studio «Zvezdochka»/pop singing
Nicolay Mikaelyan from TMT Nuance/pop singing
Nicolay Mikaelyan from TMT Nuance/jazz singing
Duet Sisauri Anastasia & Avazneli Anna from Vocal Studio «Balanchino»/jazz singing
Kritsko Antonina from TMT Nuance/pop singing
Cevre Schools Polıfonu Choır/pop singing

Silver diploma
from 80 to 89 points

Podteroba Nikol from Vocal Studio «Balanchino»/musical
Podteroba Nikol from Vocal Studio «Balanchino»/pop singing
Avazneli Anna from Vocal Studio «Balanchino»/pop
Avazneli Anna from Vocal Studio «Balanchino»/folk still with pop singing
Vakhaniya Salome from Vocal Studio «Balanchino»/ folk still with pop singing
Kritsko Antonina from TMT Nuance/jazz singing

Bronze Diploma
from 70 to 79 points

Nadezhda Iakusheva from TMT Nuance/pop singing
Nadezhda Iakusheva from TMT Nuance/jazz singing
Kseniia Kmet from Vocal studio «Zvezdochka»/pop singing
Barsukova Lana from Vocal Studio «Balanchino»/pop singing
Davidova Olga from Vocal Studio «Balanchino»/pop singing
Davidova Olga from Vocal Studio «Balanchino»/jazz singing
Vakhaniya Salome from Vocal Studio «Balanchino»/pop singing
Maria Frolova from TMT Nuance/pop singing
Maria Frolova from TMT Nuance/jazz singing
Madina Ismailova from TMT Nuance/pop singing
Madina Ismailova from TMT Nuance/jazz singing
Anzhela Tsyrkina from TMT Nuance/pop singing
Anzhela Tsyrkina from TMT Nuance/jazz singing

Copper diploma
up to 70 points
Nomination « Instrumental groups and soloists»
Andrey Bubnov/flute
Isroilov Sardor/afgan rubab
Hisar School Classic Guitar Orchestra/classical guitar orchestra

Golden diploma
from 90 to 99 points
Silver diploma
from 80 to 89 points

Özel İzmir Amerikan Koleji/jazz music/group I
Özel İzmir Amerikan Koleji/jazz music/group II
Özel İzmir Amerikan Koleji/pop music
Amina Amrina/dombra
Dry noise maker/pop music
It means who moves on their desire/pop music

Copper diploma
up to 70 points
PHOTO