September in Spain – the best season, the best time for holidays and festivals! In 2017, participants of the Sea Sun Festival were greeted with applause. Contestants from 12 countries came to compete for the main prize of the competition – Grand Prix of the festival.
The countries wich participated:
Indonesia, Bulgaria, Uzbekistan, Azerbaijan, Russia, Georgia, Spain, Slovakia, Lithuania, USA, Kenya, Kazakhstan
JURY
VIDEO
POSTER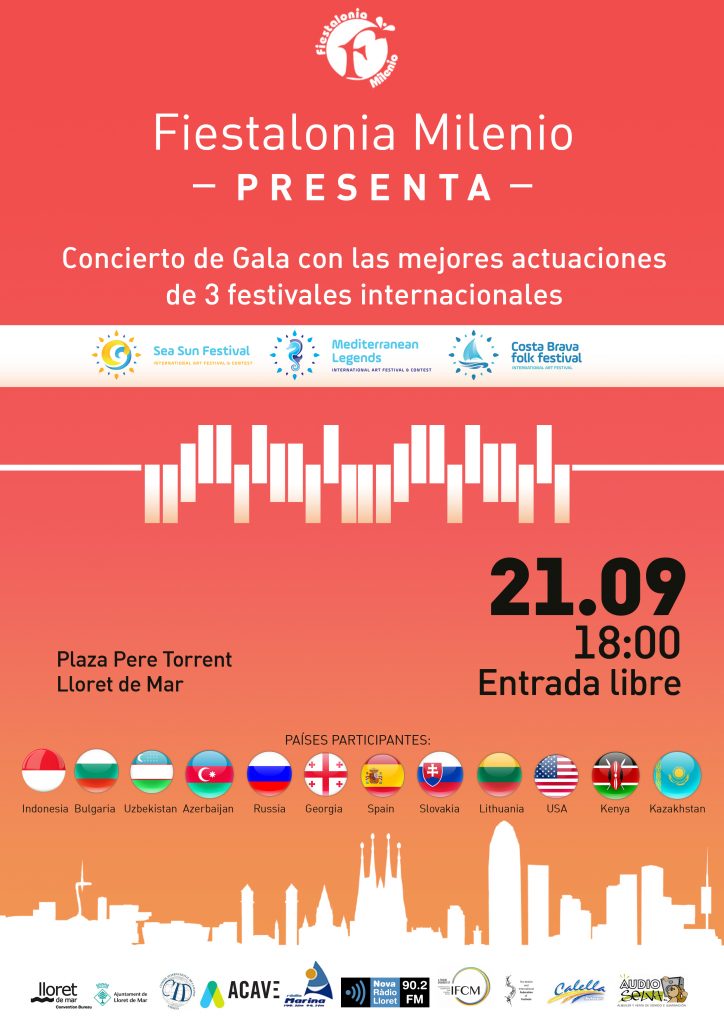 Results of XXXIII Sea Sun Festival (September 2017)
GRAND PRIX (Platinum diploma) go to Baku, Azerbaijan with Azizov Javid in nomination "Piano".
Nominations «Choreographic groups and soloists»
Abdurakhmonova Kizlarkhon/folk dance
Khatamova Yulduz/folk dancу
Daniela Beshkenadze/hip hop
Folklore Dance Club Veseliyatsi/folk dance

Golden diploma
from 90 to 99 points

Rusalia ltd Irbis/folk dance
Ilham ltd Irbis/folk dance

Bronze Diploma
from 70 to 79 points
Nomination «Singing» (choirs, ensembles, duets, trios, soloists)
Sidorova Alena/jazz singing
Choir students of the Penza theological Seminary/academic singing

Golden diploma
from 90 to 99 points

Daniela Beshkenadze/pop singing
Abdullaeva Mokhizar/pop singing
Nuzhdova Alexandra/jazz singing

Silver diploma
from 80 to 89 points

Tabkharova Santi/jazz
Beatriz Montero Pavón/folk singing
Liana Zakradze/pop singing
Mironova Anastasiia/pop singing
Riza Bayetova/pop singing
Beatriz Montero Pavón/jazz singing
Stepanova Ekaterina/pop singing
Sogonova Angelina/pop singing
Shchipov Aleksandr/pop singing
Kushkov Denis/pop singing
Galaeva Irina/pop singing
Minaeva Olga/folk singing
Children's choir of the Penza Archdiocese/academic singing

Bronze Diploma
from 70 to 79 points

Aiana Kuandyk/pop singing
Alexandra Ogay/pop singing
Dossymkhan Narmat/pop singing
Renata Yalynskaya/pop singing
Kazhymukan Narmat/pop singing
Beatriz Montero Pavón/pop singing

Copper diploma
up to 70 points
Nomination «Instrumental groups and soloists»
GRAND PRIX
100 points

Khalimjonova Gulshoda/piano
Nabieva Shirin/piano
Aydemirov Vusal/piano
Duet Primavera/violin and viola
Ozodbekova Zilolakhon/dutar

Golden diploma
from 90 to 99 points

Duet Anna Frolova & Anna Frolova/flute and viola
String trio «ARS VIVA»/string trio
Rakhmanov Akhrormirza/violin
Akramov Mukhriddin/trumpet
Davlatohunov Dostonbek

Silver diploma
from 80 to 89 points
Nomination «Theater»
Theatre studio "Et cetera"/theater

Silver diploma
from 80 to 89 points

Musical school "OceanArt"/musical
Musical school "OceanArt"/pantomima

Bronze Diploma
from 70 to 79 points
PHOTO