Unforgettable and unimaginably XXXI international festival-contest Sea Sun Festival was held! June of this year was particularly full of creativity and talent. There were so many participants that we had to conduct a competitive viewing in parallel at two stages, otherwise we would have to conduct a competitive viewing for more than a 24h! Surprisingly, at this festival the Grand Prix was taken by the group performing in the nomination "Drama" for the first time, which once again confirms that the talent has no limits. This year and especially June we will remember for a long time! We are waiting for all participants again, on our stages!
The countries wich participated:
Russia, Spain, Georgia, Kazakhstan, Indonesia, Lithuania, Canada, Ukraine, Argentina.
JURY
Elena Manera
Susana del Saz
POSTER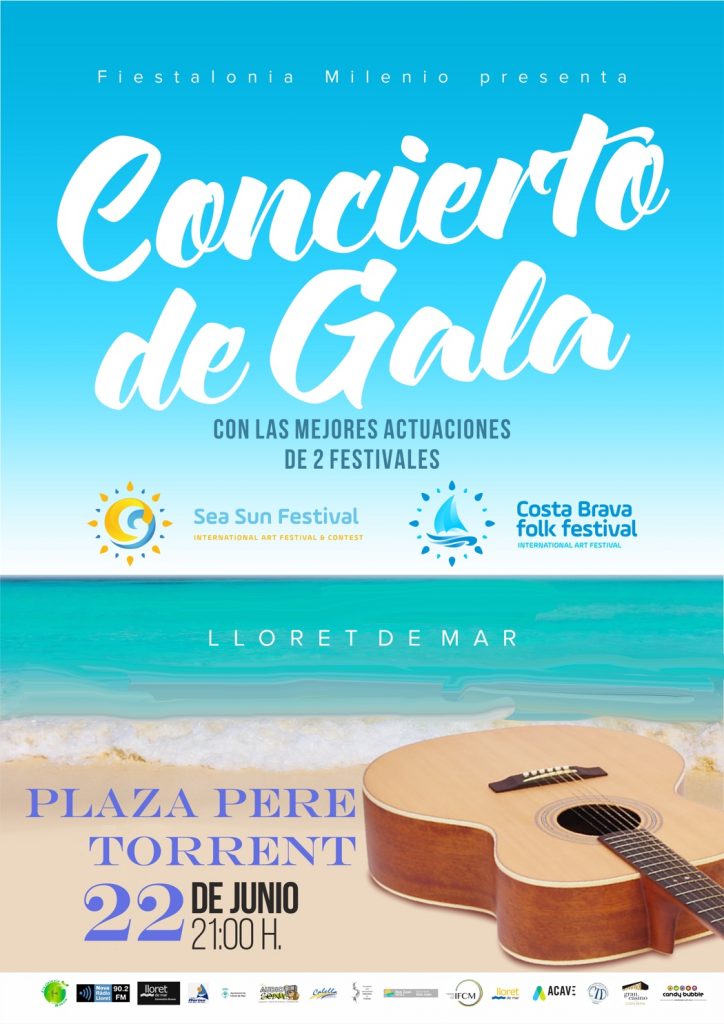 Results of XXXI Sea Sun Festival June 2017, Spain
GRAND PRIX (Platinum diploma) go to Moscow, Russia with Foreign Language Centre in nomination "Drama".
Nominations «Choreographic groups and soloists»
KISLOVA KRISTINA/folk dance
21st Century Integration School/modern dance
Choreographic collective "Mziuri"/folk dance
Varvara Vlasova/contemporary
«Adjilita»/modern dance
Theatre and choreography school Inside/variety dance/age category mixed 5-16

Golden diploma
from 90 to 99 points

Theatre and choreography school Inside/modern dance/age category mixed 11-14
Theatre and choreography school Inside/ folk stylized dance/age category mixed 11-14
BRIUKHOVA ULIANA/modern dance
BRIUKHOVA ULIANA/folk dance
GRIGOREVA EKATERINA/classical dance
CHALOVA SOFIA/folk dance
POLIAKOVA VLADLENA/modern dance
21st Century Integration School/classical dance/age category 10-12
ZAITCEVA VICTORIA/modern dance
NIKONOVA MARIIA/variety dance
KIBARDINA SOFIA/Folk dance
«Ptitsy schastya»/folk dance/age category I
Theatre and choreography school Inside/variety dance/age category mixed 7-11
21st Century Integration School/classical dance/age category 11-12

Silver diploma
from 80 to 89 points

«Ptitsy schastya»/modern dance/age category I
Group «veselii veter»/variety dance/age category I ZOLOTAREVA POLINA/folk dance
NIKONOVA MARIIA/stylized folk dance
ZOLOTAREVA POLINA/variety dance
OLESIA FROLENKO/variety dance
SADAKOVA ALINA/modern dance

Bronze Diploma
from 70 to 79 points
Nomination «Singing» (choirs, ensembles, duets, trios, soloists)
MARKOVSKA KATERYNA/academic singing
Levani Eloidze/national song
Vlada Moldovanova/pop singing
Vlada Moldovanova/jazz singing
Mariam Tatulashvili/musical singing
Senior Choir of German Zhukovsky Kiev Children's Art School/academic singing

Golden diploma
from 90 to 99 points

Tika Jajanashvili/academic singing
Ana Kerdzevadze/academic singing
Baranova Anastasiia/academic singing
SHCHERBAKOVA ARINA/pop singing
MAUTKHANOVA AKZHAN/pop singing
Duet from Theatre and choreography school Inside/folk singing
RAISKA TETIANA/pop singing

Silver diploma
from 80 to 89 points

ALISA KRAVTSOVA/pop singing
Group «Veselii yroki"/pop singing
MALOVA MARIIA/pop singing
Shabalina Mariya/pop singing
Kozenko Sofia/pop singing
GLUKHIKH KATERINA/pop singing
LOZOVAYA DIANA/pop singing
SAКPAYEVA DAYANA/pop singing
NURABAYEVA ADELYA/pop singing
Amina Dzhafarova/pop singing
Mitiakova Viktoriia/pop singing
VIKTORIIA KRIUCHKOVA/pop singing

Bronze Diploma
from 70 to 79 points

Group Malenikii korablik/pop singing/age category II
Group «Veselii veter»/pop singing/age category mixed 9-10
DAVID SUKHOLINSKIY-MESTECHKIN/pop singing
KARINA DAVITYAN/pop singing
ALEKSANDER BYKHOVSKIY/pop singing
STEFANIYA LUKYANOVA/pop singing
OLESIA FROLENKO/pop singing
ANASTASIIA LEDENEVA, DIANA VOLFSON/pop singing
ARINA GROT/pop singing
DARIA NIKOLAENKO/pop singing
ALEKSANDER BYKHOVSKIY/pop singing
LI DMITRII/pop singing
SHATALOVA VALERIIA/pop singing
ALIMOVA SAMIRA/pop singing
KARTASHOVA ANNA/pop singing
Mariam Datiashvili/pop singing
RADIONOVA DARIA/pop singing
KOCHERGINA VIKTORIYA/pop singing
Aleksandra Isavnina/pop singing
ZHAPAR AYAULYM/pop singing
Mariam Kandelaki/pop singing
BONDARTSEVA ALINA/jazz singing
KHACHINA ANASTASIIA/jazz singing
Trio Keso Khorava, Elene Samadashvili, Tika Jajanashvili/pop singing
Trio Giorgi Kobalava, Tekla Kezevadze, Elene Otarashvili/pop singing
SEREBRENNIKOVA LAURA/pop singing
ZHANGANASHEV AMIR/pop singing
KARTASHOVA VALERIYA/pop singing
DANA BARINOVA/pop singing
ANNA POTAРKINA/pop singing
Skorodumova Yana/pop singing
Duet Mangysh Diana, Sarsenbayeva Ayaulym/pop singing
BIZONOVA VERONIKA/pop singing
Skorodumova Yana/jazz singing
BEIBIT TOGZHAN/jazz singing
VICTORIA ERSHOVA/jazz singing
CHUKAYEVA OLGA/pop singing
Vocal ensemble «Mix»/pop singing
Vocal ensemble "The good life"/pop singing
Vocal ensemble "АNAHNUKAN"/pop singing

Copper diploma
up to 70 points
Nomination «Instrumental groups and soloists»
ILMA DUMČAITYTĖ/piano
BRIGITA BARTKUTĖ/piano
ZABIELICH-KOLBERT MARHARYTA/piano
The exemplary art collective ensemble of spoon "Barynya" /ensemble of russian folk instruments

Golden diploma
from 90 to 99 points

JALILOV FATIKH/piano
RAKHIMBAY AMINA/piano
NURLANKYZY ADINA/piano
BIRYUKOV BOGDAN/piano
KARTASHOVA VALERIYA/piano
SIMONAS RUKANSKIS/piano
IEVA MACHTEJEVAITĖ/piano
AUSTĖJA BREIVYTĖ/piano
LEONARDAS JAKELIS, IEVA GUDAVIČIŪTĖ/cornet & piano
Duet Daria Dubinkina, Elena Shulepova/piano
KUMARBEKOV MALIK/guitar
ASHIMKHAN ALMAT/kobyz
Folklore ensemble of Kazakh folk instruments "ZHAZ KANAT"/ folk ensemble

Silver diploma
from 80 to 89 points

IMANGELDI AIDANA/violin
SHAKHMURATOVA ZERE/violin
ABDEZ ALTYNAY/violin
ALIMOVA SAMIRA/piano
KOSHKARBAYEVA ARAILYM/piano
KUSSAINOVA DIANA/piano
YELEUOVA BIKHANYM/piano
DUET BIRYUKOV BOGDAN & KARTASHOVA VALERIYA/piano
NASHARIPOVA RABBIYA/piano
DUET BEKBOSYN DIAS & BEKBOSYN DULAT/dombra & piano
BAIZAKOV YERNUR/dombra
ORAZALIYEV SULTAN/dombra
Beisembayev Ansar/dombra
Amidullayeva Malika/kobyz
TRIO BAIGOZHINA LEILA, BAIMBETOV ALMAZ, MAULEN ALUA/kobyz
Akbayeva Akmaral/kobyz
Quintet of guitarists "Expromt"/ensemble of guitarrist
Dombra ensemble "Kos yshek"/dombra ensemble

Bronze Diploma
from 70 to 79 points

MUSSINA BIBIGUL/violin
CHARY ADINA/piano
GLUKHIKH KATERINA/piano
LOZOVAYA DIANA/piano
SAКPAYEVA DAYANA/piano
SHUBAYEVA ZHANERKE/piano
BEKBOSYN DULAT/piano
CHARY ADINA/dombra
ZHAXLYK TOMIRIS/dombra

Copper diploma
up to 70 points
Nominations «Theatre»
Foreign Language Centre/drama

GRAND PRIX
100 points

Theatre and choreography school Inside/theatrical miniature/age category mixed 7-16

Golden diploma
from 90 to 99 points

Theatre and choreography school Inside/pantomime
OLESIA FROLENKO

Silver diploma
from 80 to 89 points

Group «Veselii yroki"/age category I
ALISA BYKHOVSKAYA
Group «Veselii veter»/age category mixed 9-10
ALEKSANDRA MININA, LI DMITRII
ALEKSANDER BYKHOVSKIY, ARINA GROT
Theatre and choreography school Inside

Bronze Diploma
from 70 to 79 points

ANASTASIA NIKIFOROVA
Theatre and choreography school Inside/variety miniature

Copper diploma
up to 70 points
PHOTO