On the eve of the New Year holidays, two international contests "Theatrical Talents" and "Gran Fiesta" thundered on the stage of the Municipal Theater of Lloret de Mar.
From 2 to 5 December 2018, the town on the Mediterranean coast embraced a real theatrical boom, because the most talented artists had come here! Depicting bright artistic characters on stage, the participants of "Theatrical Talents" used the entire palette of emotional expression. They not only filled the hall with their powerful energy, but also won the hearts of local viewers! Each performance made the audience tremble, and the incredible costumes, makeup and decoration captured the imagination.
The winner of the Grand Prix was the Student dance and plastic theatre "Oler"! The jury also especially noted the Children theater studio "Marmalade" for the preservation, support and development of traditional folk culture!
Another incredible holiday for the spectators was staged by the participants of the multi-genre contest "Gran Fiesta"! Incendiary dances, folk instruments and beautiful vocals – the theater scene flashed with bright colors!
The performance of the honorary guest of the festival Olga Gribkova together with the theater "Oler" was the perfect end to the festival season of Fiestalonia 2018! We want to thank everyone for the magical holiday!
Participating countries: Latvia, Ukraine, Russia, Iran, Vietnam, Kazakhstan.
POSTER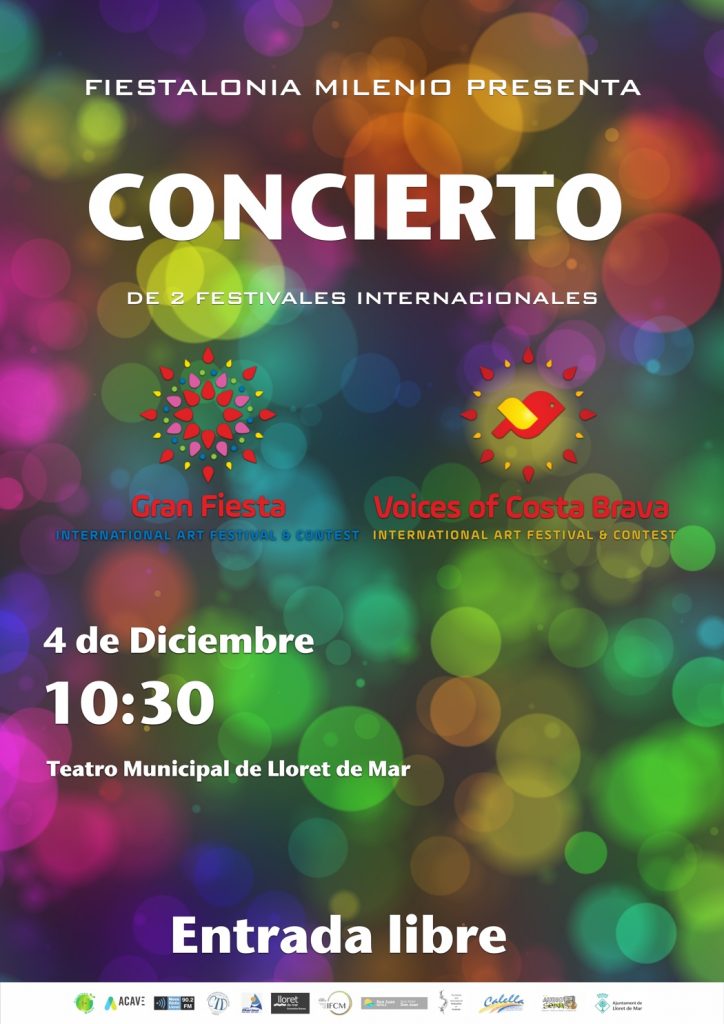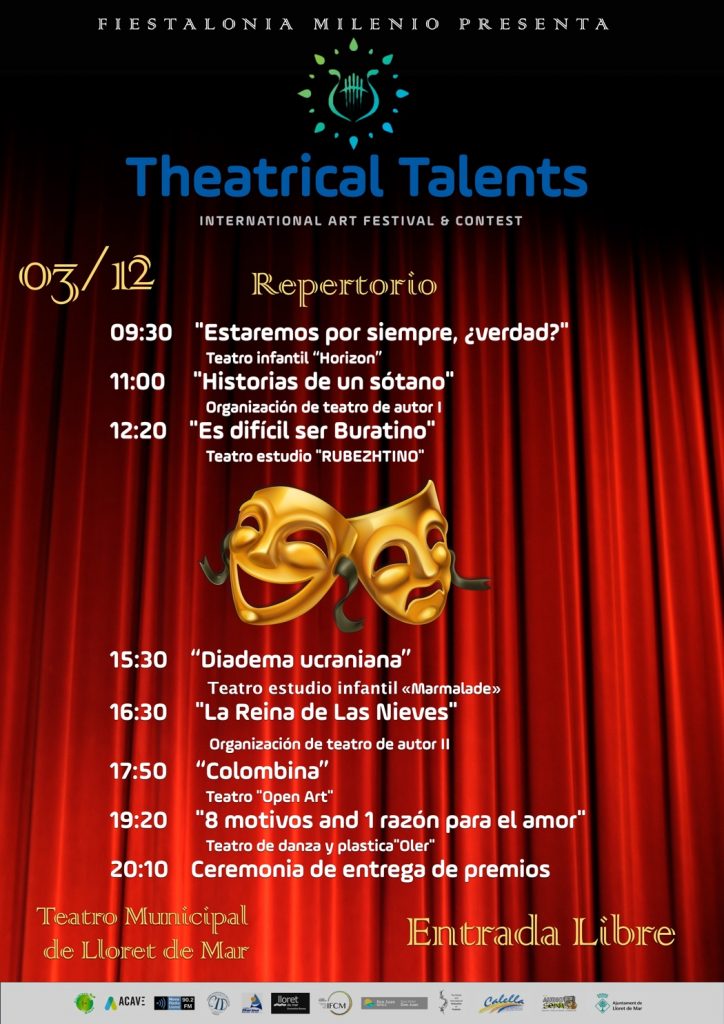 Results of Theatrical Talents and Gran Fiesta (December 2018, Spain)
Theatrical Talents
Student dance and plastic theatre "Oler" of Moscow state University, Institute of culture and arts/Plastic drama, dance theatre

GRAND PRIX
100 points

Student dance and plastic theatre "Oler" of Moscow state University/choreography
Studio Theater "RUBEZHTINO" of RPA "RUBEZH"/Theatre Studio
Сhildren theater studio «Marmalade»/Folk action with ritual elements

Golden diploma
from 90 to 99 points

Melnik Irina/choreography
Author's Theater Organization/Musical theatre/age category mixed 7-12
Open Art Theatre/Musical comedy

Silver diploma
from 80 to 89 points

Riga's KC "Imanta" Children's Theatre "Horizon"/Musical Drama
Author's Theater Organization/Musical theatre/age category mixed 11-14

Bronze Diploma
from 70 to 79 points
Gran Fiesta
THUY NGUYEN THU/vietnam folk instrument
Vocal ensemble "Subton"/academic singing

GRAND PRIX
100 points

Haray Ladies Folklore Music Group/folk

Golden diploma
from 90 to 99 points

Tukayev Abylay/academic singing
Safonov Rostislav/jazz singing
Let's Dance Studio/sport dance

Silver diploma
from 80 to 89 points

Dance ensemble "АSSORTY"/folk stylized dance
Safonov Rostislav/pop singing

Bronze Diploma
from 70 to 79 points

Safonova Sofia/pop singing

Copper diploma
up to 70 points
PHOTO