Immersed in the atmosphere of dance, the Spanish city of Lloret de Mar warmly welcomed the participants of the contest "Dance Factory" with excellent sunny weather and along with them rejoiced at their success!
The unique format of the competition is aimed at an open exchange of experience among its participants. "Dance Factory" is, first of all, a meeting of a wide variety of dance styles and schools; it is an opportunity to meet other cultures. The international friendship, which is born in its backyard, develops tolerance, inspires and serves as an incentive for self-development.
The international choreographic event took place from 24 to 28 of March, 2019 and left an unforgettable mark on the hearts of talented, bright and energetic dancers from around the world!
The contest was held in 2 days, since 120 solo and group numbers of various genres and age categories were represented in it! The jury consisted of well-known dancers and choreographers from Europe and Latin America: Yadira Olavarría, Laura Mungherli, Irina Khrebtova, José León, José Mª López Santamaria and President of Fiestalonia David Dzhaparidze.
As a part of the competition, all the dancers had to take part in the common choreography on the Mediterranean coast. The incredible dance to the song "Kiss the Sky", staged by the Italian choreographer Laura Mungherli united 200 dancers. This event was one of the highlights of the festival!
The final event of "Dance Factory" was a solemn gala concert. Its program was full of the brightest and most original performances, after which a touching award ceremony took place.
Grand Prix was received by Exemplary children's team dance studio "GLOBUS", Russia! We congratulate them on their well-deserved victory, and also want to thank all the participants for their talent, for their hard work, for their radiant smiles and for their overwhelming desire to dance!
Participating countries: Spain, Israel, Russia, Kazakhstan, Belarus, France, Italy.
JURY
José Mª López Santamaria
Laura Mungherly
POSTER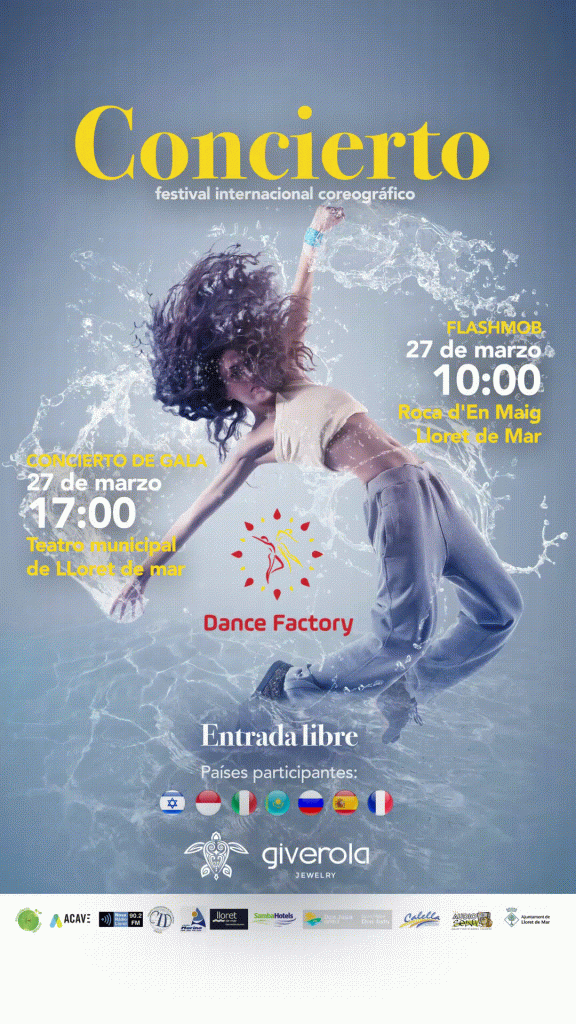 VIDEO
Results of Dance Factory (March 2019, Spain)
Exemplary children's team dance studio «GLOBUS», St. Petersburg, Russia – modern dance – IV 16-19

GRAND PRIX
100 points

Alon Vigal from Vizavi Dance School, Bat Yam, Israel – free style
FIVEYSKAYA MARIA from Children's exemplary dance group "PALITRA", Moscow, Russia – flamenco
CHRISTYANA KANAZEHY from Studio "PSIFAS", Akko, Israel – classical dance
VASYUTINSKAYA SOFIYA from Children's exemplary dance group "PALITRA", Moscow, Russia – flamenco
GASPEROTTO VERONICA from CENTER STAGE A.S.D.C., Pesaro, Italy – modern dance
Lisa Krezner from MY WAY, Holon, Israel – hip hop
Duet from RELAXPRO, Astana, Kazakhstan – ballroom dance
Duet Related, Perpignan, France – fusion hip hop & modern Jazz
Anastasiia Filina from Choreographic Ensemble «Khrustalik», Usinsk, Russia – folk dance
GASPEROTTO VERONICA & D'AMICO ALESSIA from CENTER STAGE A.S.D.C., Pesaro, Italy – modern dance
RELAXPRO, Astana, Kazakhstan – ballroom dance – II 10-12
Choreographic Ensemble «Khrustalik», Usinsk, Russia – folk dance – II 10-12
Exemplary Ensemble of Variety Dance «Prestige», Brest, Belarus – modern dance – III 13-15
Exemplary Ensemble of Variety Dance «Prestige», Brest, Belarus – variety dance – III 13-15
Vizavi Dance School, Ashdod/Bat Yam, Israel – free style – mixed 12-14
CENTER STAGE A.S.D.C., Pesaro, Italy – modern dance – III 13-15
MY WAY, Holon, Israel – hip hop – mixed 11-18
Children's exemplary dance group "PALITRA", Moscow, Russia – flamenco fusion – mixed 7-16
Exemplary children's team dance studio «GLOBUS», St. Petersburg, Russia – hip hop – IV 16-19
EIGHT CLIQUE, France – sport dance – VI) from 26 years

Golden diploma
from 90 to 99 points

MAIS ASID from Studio "PSIFAS", Akko, Israel – classical dance
Yaroslava Budovskikh, Almaty, Kazakhstan – belly dance
Deborah Del Carmen Artiles Ramirez From Acedance, Las Palmas, Spain – acrodance
Yaroslava Budovskikh, Almaty, Kazakhstan – folk dance
LAYAN MOADY from Studio "PSIFAS", Akko, Israel – classical dance
SHOVAL HAMMER from Studio "PSIFAS", Akko, Israel – classical dance
GUSAROVA VERONIKA from Children's exemplary dance group "PALITRA", Moscow, Russia – flamenco fusion
PIMINOVA IRINA from Children's exemplary dance group "PALITRA", Moscow, Russia – flamenco
Giommi Cecilia from Center Stage A.S.D.C., Pesaro, Italy – ballet
VESHKINA MARINA from Children's exemplary dance group "PALITRA", Moscow, Russia – flamenco
ACEDANCE, Las Palmas, Spain – showdance – I < 9
Children's exemplary dance group "PALITRA", Moscow, Russia – children's dance – I < 9
SHOVAL HAMMER & CHRISTYANA KANAZEHY & LAYAN MOADY from Studio "PSIFAS", Akko, Israel – classical dance – II 10-12
Trio from Сhoreographic ensemble "Aitumar", Karaganda, Kazakhstan – folk dance – II 10-12
Trio from Children's exemplary dance group "PALITRA", Moscow, Russia – variety dance – II 10-12
ACEDANCE, Las Palmas, Spain – acrodance – I < 9
Quintet from Children's exemplary dance group "PALITRA", Moscow, Russia – modern dance – II 10-12
Сhoreographic ensemble "Kerbez", Karaganda, Kazakhstan – folk dance – II 10-12
Children's exemplary dance group "PALITRA", Moscow, Russia – clasico español – II 10-12
Studio "PSIFAS", Akko, Israel – classical dance – mixed 7-12
Children's exemplary dance group "PALITRA", Moscow, Russia – folk dance – II 10-12
Сhoreographic ensemble "Aitumar", Karaganda, Kazakhstan – folk dance – mixed 7-16
Quintet from Children's exemplary dance group "PALITRA", Moscow, Russia – modern dance – mixed 12-14
NICOLE FRANCIS & NERMEEN HORANY & SAMIHA ABBAS from Studio "PSIFAS", Akko, Israel – contemporary dance – III 13-15
Choreographic Ensemble «Khrustalik», Usinsk, Russia – folk dance – III 13-15
Laboratory dance "ReLizzz", Chelyabinsk, Russia – modern dance – mixed 11-14
Children's exemplary dance group "PALITRA", Moscow, Russia – flamenco – mixed 10-20
Children's exemplary dance group "PALITRA", Moscow, Russia – clasico español – mixed 11-20
CENTER STAGE A.S.D.C., Pesaro, Italy – ballet – III 13-15
Children's exemplary dance group "PALITRA", Moscow, Russia – flamenco fusion – mixed 11-20
Children's exemplary dance group "PALITRA", Moscow, Russia – folk dance – mixed 11-20
Trio from Exemplary children's team dance studio «GLOBUS», St. Petersburg, Russia – classical dance – IV 16-19
Children's exemplary dance group "PALITRA", Moscow, Russia – variety dance – mixed 6-12
Children's exemplary dance group "PALITRA", Moscow, Russia – folk dance – mixed 6-20

Silver diploma
from 80 to 89 points

Deborah Del Carmen Artiles Ramirez From Acedance, Las Palmas, Spain – variety dance
Negelya Tamara, Rostov-on-Don, Russia – classical dance
CHRISTYANA KANAZEHY from Studio "PSIFAS", Akko, Israel – jazz dance
CHRISTINA FRANCIS from Studio "PSIFAS", Akko, Israel – dance escene
SHIRAN ODE from Studio "PSIFAS", Akko, Israel – dance escene
MATYTSINA SOFIIA from Children's exemplary dance group "PALITRA", Moscow, Russia – modern dance
ABGARIAN ANNA from Children's exemplary dance group "PALITRA", Moscow, Russia – modern dance
GRITSENKO ANNA from Children's exemplary dance group "PALITRA", Moscow, Russia – flamenco
ABRAMOVA MARIA from Children's exemplary dance group "PALITRA", Moscow, Russia – flamenco
SAMIHA ABBAS from Studio "PSIFAS", Akko, Israel – contemporary dance
NERMEEN HORANY from Studio "PSIFAS", Akko, Israel – contemporary dance
HADAYA HANI from Studio "PSIFAS", Akko, Israel – contemporary dance
GUSAROVA VERONIKA & BROVKO LADISLAV from Children's exemplary dance group "PALITRA", Moscow, Russia – flamenco
CHRISTYANA KANAZEHY & NICOLE FRANCIS from Studio "PSIFAS", Akko, Israel – classical dance
Uliana Kopyl from Choreographic Ensemble «Khrustalik», Usinsk, Russia – folk dance
TELEBOKOVA MARIA from Children's exemplary dance group "PALITRA", Moscow, Russia – flamenco
CHRISTYANA KANAZEHY & NICOLE FRANCIS from Studio "PSIFAS", Akko, Israel – dance escene
Trio from Children's exemplary dance group "PALITRA", Moscow, Russia – flamenco – mixed 10-20
Studio "PSIFAS", Akko, Israel – dance escene – mixed 7-15
Ensemble "Ervyaka" from Children's Art School №1, Elista, Kallmykia, Russia – folk dance – mixed 9-16
NICOLE FRANCIS & NERMEEN HORANY & SAMIHA ABBAS from Studio "PSIFAS", Akko, Israel – contemporary dance – III 13-15
Laboratory dance "ReLizzz", Chelyabinsk, Russia – modern dance – mixed 11-14
Studio "PSIFAS", Akko, Israel – modern dance – mixed 14-19
Studio "PSIFAS", Akko, Israel – burlesque – mixed 15-19
Quartet from Studio "PSIFAS", Akko, Israel – modern dance – IV 16-19
Group "Chaeri" from Modern Danse Studio «Muarami», Komsomolsk-on-Amur, Russia – ethnic dance – VI) from 26 years

Bronze diploma
from 70 to 79 points

GHADA ARNAUT from Studio "PSIFAS", Akko, Israel – classical dance
NETA KLIGMAN from Studio "PSIFAS", Akko, Israel – classical dance
BAYAN HATHOT from Studio "PSIFAS", Akko, Israel – modern dance
SAMIHA ABBAS from Studio "PSIFAS", Akko, Israel – modern dance
NICOLE FRANCIS from Studio "PSIFAS", Akko, Israel – modern dance
NETA KLIGMAN & LAYAN MOADY from Studio "PSIFAS", Akko, Israel – classical dance
HILA HAMMER & SHOVAL HAMMER from Studio "PSIFAS", Akko, Israel – modern dance
CHRISTYANA KANAZEHY & LAYAN MOADY from Studio "PSIFAS", Akko, Israel – modern dance
YARA FALAH & SALMA FALAH from Studio "PSIFAS", Akko, Israel – dance escene
SAMAR HATIB & LAYAN MOADY from Studio "PSIFAS", Akko, Israel – dance escene
BAYAN HATHOT & HADAYA HANY from Studio "PSIFAS", Akko, Israel – contemporary dance
SAMIHA ABBAS & NICOLE FRANCIS from Studio "PSIFAS", Akko, Israel – modern dance
Sivak Elena from Modern Danse Studio «Muarami», Komsomolsk-on-Amur, Russia – ethnic dance
Vikulova Nadezhda from Modern Danse Studio «Muarami», Komsomolsk-on-Amur, Russia – ethnic dance
Petrova Tatyana from Modern Danse Studio «Muarami», Komsomolsk-on-Amur, Russia – ethnic dance
MAIS ASID & LIRI OSHER SHIMONI & GHADA ARNAUT from Studio
"PSIFAS", Akko, Israel – classical dance – I < 9 (7-8)

Copper diploma
till 70 point
PHOTO